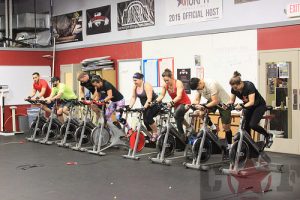 We have some schedule updates, and we are not waiting until Thursday to tell ya!
EFFECTIVE IMMEDIATELY: The Tuesday/Thursday 9:30AM CrossFit classes will now be in an Open Gym format. The workout for those days will be posted for anyone coming in at that time to perform.
EFFECTIVE NEXT WEEK: After it's summer hiatus, Aimee's Tuesday 10:30AM spin will be back on the schedule beginning 10/4. Spin classes are a great non-impact work and Aimee spins a [email protected]$$ playlist (and she might even sing for your too!). Come join her next Tuesday! **Krank-ers are welcome to join in too!!!
EFFECTIVE NEXT WEEK: On a TRIAL basis, we are going to launch a SPIN HYBRID class with Melissa beginning next Thursday, 10/6 at 8:45AM. This class is also a non/low impact class that will be part spin (hills, sprints, jumps and all that fun cycling stuff) and part strength (bodyweight, free weight, kettle bell exercises, etc.) circuit. We will be experimenting with this class as well as the time/day that it is offered to see if there is enough interest. Come and check it out!
See YOU at class!