A few updates on updating your membership info and a welcome back to Badge 27 members!
General Membership Updates
It's that time of year again when we make sure we have your most current contact information and also get a beauty shot for your membership records (if we don't currently have one)!  Please take a moment at the front desk to fill out an updated form when you are checking in or before you head out.
Lastly, be on notice that front desk staff may call you out if you need a photo (i.e. your beautiful face doesn't show up on the check-in screen when you scan you tag).  Smile big!
Also, did you know you can leave a credit card on file with us to eliminate the hassle of running to your car or having to "check back" when you have it?  You can use the CC for all membership updates, apparel and other purchases.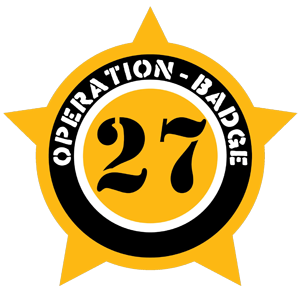 Operation Badge 27
Key program: If you are a current member or were a previous member of the
Badge 27 program
and are interested in coming back under the new program offerings, please email
Sandy
to sign up for a key and restart your membership.

Free Intros
ONE more free intro this month after a BIG one last week.  1/28 at 9:30 AM is your last opportunity in January to give Corps Fitness a try for up to 6 weeks for just $70!
Remember that your attendance at a free intro class will then qualify you for a free 2-week Corps Fitness unlimited trial membership. And wait, there's more!  After your 2 week free trial is complete, you can take advantage of a one-time introductory rate of $70 for your first one-month unlimited membership! Great deal, great start to the new year!
Spread the word, and show your friends why Corps Fitness is Best in Berks!
CrossFit Open
The CrossFit Open will take place from Feb 23 - Mar 27.  If you want to register (gives you access to website to see how you're ranked among others nationally), visit https://games.crossfit.com/
It's not required to register online - you can still do the workouts at Corps Fitness during the times we'll set up.  Corps Fitness does not get anything for you registering; it's a personal thing if you want to.
We WILL need judges for the workouts - the judges course is available online.  I haven't tried it yet, but it appears to be open and ready at any point (and a good way for XF to make $10 a pop…).  No doubt it's a good way to learn the movements and what IS vs ISN'T a rep in CrossFit.  We'll gather a list of all who take the judges course and can then score workouts when they come up.
Fight Gone Bad Benchmarking
What were you doing this time last year?  Were you all set to start the New Year off with a bang, only to get 3 weeks into it and feel a little off course?  How about some CF-style accountability?  …as in Fight Gone Bad benchmark testing!  Beginning 1/25 and running through 1/29, we're holding testing.  2 CFers per time slot, 2 rounds of FGB.  We'll repeat at regular intervals so you can see your progress!  SIgn up at the desk and be ready to go at your allocated time!

Functional Training for Runners
Are you a runner, or do you want to become a runner!  Check out our great new partnership with A Running Start!

Additional Open Gym Times
Some more new faces creating more opportunities at CF!  Thanks to PSU Berks Kinesiology students Isaiah, Melissa, and Justin we're able to offer more open gym times starting this week with the following schedule (subject to change week to week, we'll try to post Saturdays for the following week):
Sunday 9:30-10:30 AM
M / W / F: 6:30 - 9 AM, 10:30 - 11:45 AM, 6:30 - 7: 30 PM
T / Thurs: 9 AM - 1 PM, 6:30 - 7:30 PM
Saturday 10:30 - 11:30 AM

Congratulations to Meg and Brian Flannery on the birth of their daughter, Molly, on Monday 5/30!  Meg was at Murph on Saturday, endured a 24 hour labor, and brought little Molly into the world on Monday.  This little lady has already given her mommy and daddy a run for their money, but now mama and baby are doing well and getting lots of snuggles.  Welcome to the world, Molly!! <3

Congratulations to the Hottenstein family on the arrival of baby Mahlon, born this morning.  Mahlon joins big brother JD to round out an even 4.  Everyone is doing well!!

The All Out In Berks Challenge is just over a week away!!  If you're still interested, registration is available on the competition day!  This is a fun, friendly competition, and if you're not competing you're invited to stop in a watch any part of the competition - it'll be taking place from roughly 9 am - 2 pm.
On 2/20, CF will NOT be holding the regularly scheduled classes.  Normal schedule on Friday 2/19 and Sunday 2/21.
Normal schedule on Monday 2/15.
Reminder: Please DO NOT leave valuables visible in your car when you are in class at Bldg 7.  This is for your own safety and security.  Make sure your doors are locked and valuables are stowed away.  Thank you!
FREE INTRO CLASS (Intro to Corps Fitness) this Saturday 2/13 at 9:45 AM
Weekend instructors: 
Friday 5:30 PM - Ed
Sunday 8:30 AM - Ed: Happy Valentine's Day!!

A short bio on Owen, who will be teaching our Sunday morning class this week:
I'm originally from West Chester PA, where I was a three sport athlete in high school. I studied and played football at Juniata college. I started crossfit after graduated college as a way to stay in shape and was hooked from the beginning. I was certified as a level 1 trainer in 2014. I moved to the Reading area for work purposes in the spring of 2015. After missing the high intensity workout lifestyle for a few months I quickly found Corps Fitness… I got my butt kicked and signed up right after the first workout.

Upcoming this week and for the month of December:
Weekend instructors:
Friday 5:30 PM - Gretchen (see separate update below for additional PM offerings Friday 12/4)
Sunday 8:30 AM - Owen, our new CrossFit instructor!
Weight Loss Challenge Weigh-Outs
Weigh out on Friday or Saturday with final weight and % body fat.  Log on the sheets at the front desk.  Winners will be announced Sunday 12/6.  A big THANK YOU goes out to Melissa for putting this together and keeping everyone motivated during this challenge!!  She is honestly the poster child for how these challenges can be life changing, and is paying it forward by helping fellow CFers :).  Hopefully challenge participants have taken something away regarding the relationship between fitness and nutrition, and learned some healthy habits than can be applied to your everyday lives moving forward.  Just because it's over doesn't mean to pick back up the proverbial carton of ice cream and go crazy!  Stick with it, even if you don't want to lose weight, and make sure to step back occasionally and assess your habits for everyday improvements!
Friday December 4th

.  
Regular

5:30PM

 CF class is STILL on schedule.  BUT then….
6:00

CF/Bldg7 Yoga Friday night "Mixer" is on
.  This is open for ANYBODY….members of CF, members of Bldg 7 Yoga, and people who aren't members at either
joint, but want to check it out.
- From
6-6:45
All Attendees will start on CF side with a class led by Chris.  Then from
6:45 to 7:30
, they will transition to Yoga side for class w/ Linda
Cost details:
- If you are a member of BOTH places, there is no additional fee.
- If you are a member of one or the other, but not both, the extra cost is $12.
- If you are a member of neither and are coming to check both places out, drop in fee is $12.
FREE Intro classes for December are:  12/12 and

12/26 at 9:45AM
Sunday 12/13 - 12 Days of Christmas workout!
Holiday Schedule Changes
- Thursday Dec. 24th
- ONE class only at
9:00AM
- Friday Dec. 25th
- CLOSED
Then begins HERO WEEK, WINTER 2015




- Sat. Dec. 26th

- Beginning of Hero Week.  ONE class only at

8:30AM



- Sunday Through Thursday of Hero Week is normal class schedule.
- Friday, 1/1/16
is Finale of Hero Week and ONE class only at
9:00AM
***Hero Week takes on a different Focus this year… stay tuned for the announcement!
As always, stay tuned to the calendar in the CF lobby and to the website for ongoing updates!

Spin class is canceled for
tonight
and
next Thursday.  We apologize for 
any inconvenience.
FREE Intro Class

this Saturday

9/19 @

9:45am

and also on

Saturday 9/26

@

9:45
Spin class is still on for

Saturday

with Aimee at

9:30am

, she will be teaching until

October 3rd

, then we will begin the rotating instructors for Spin on Saturdays
Isn't technology wonderful??  Our Mobile App is live and can be found on Apple and Google Play Store under Corps Fitness.  We are also getting our NEW website up by the beginning of next week!  The link will be put onto the current website as well - stay tuned!
With this new Corps Fitness App, CFers will be able to sign into class and make payments to your accounts.  Another bonus is that communication from Corps Fitness will be much easier, with posts about new happenings and upcoming events as well as cancellations all sent directly to your phone via email or text!  All you need to do is set up a log in and password, which should be your email address we have on file.
Weekend instructors:
Friday 5:30 PM - Gretchen
Sunday 8:30 AM - Van
Corps Fitness would like to extend a warm welcome to Justin Cox, who joins us by way of California.  Justin will provide opportunities for fitness / strength building in Bldg 7.  He is an ASFA trainer as well as a US Marine who served in Afghanistan, Iraq, Africa and the US.  In 2004, his Humvee was hit by an RPG and he sustained damage to his hearing and skin, but fortunately avoided catastrophic injuries.  We're excited to provide an opportunity for Justin to get back into the civilian world and motivate some willing CFers!