CF is all about forming strong bodies and strong, lasting relationships.  And unfortunately sometimes that means you have to say "see you later" to some great friends and even better people.  If you're a regular 5:30 PM CFer, you recognize Sona and George, who have been in the US from their home country of the Czech Republic for about 18 months.  Well, unfortunately (for us) they're heading back to Czech very soon.  But not before we give them a proper CF send-off with a class followed by an informal party after the 5:30 PM class on Monday 2/20 (which also, coincidentally, is Sona's birthday!).  We'll share some food, drinks, and fun times once more and send them off with a fond farewell!  If you don't know them well, but would like to come Monday night, the more the merrier!  In standard CF fashion, ALL are welcome - no special invitation required!  We'll also post a card at the front desk if you'd like to write a few words for them.

A friendly reminder:  The CF / Bethany Children's Home party is this Friday!  We're still in need of a few more items on the sign-up sheet.  If you've already signed up and / or are providing a gift, THANK YOU!!  We'll be hosting about 18 children and as many CFers and their families as are able to come.  Looking forward to a special evening!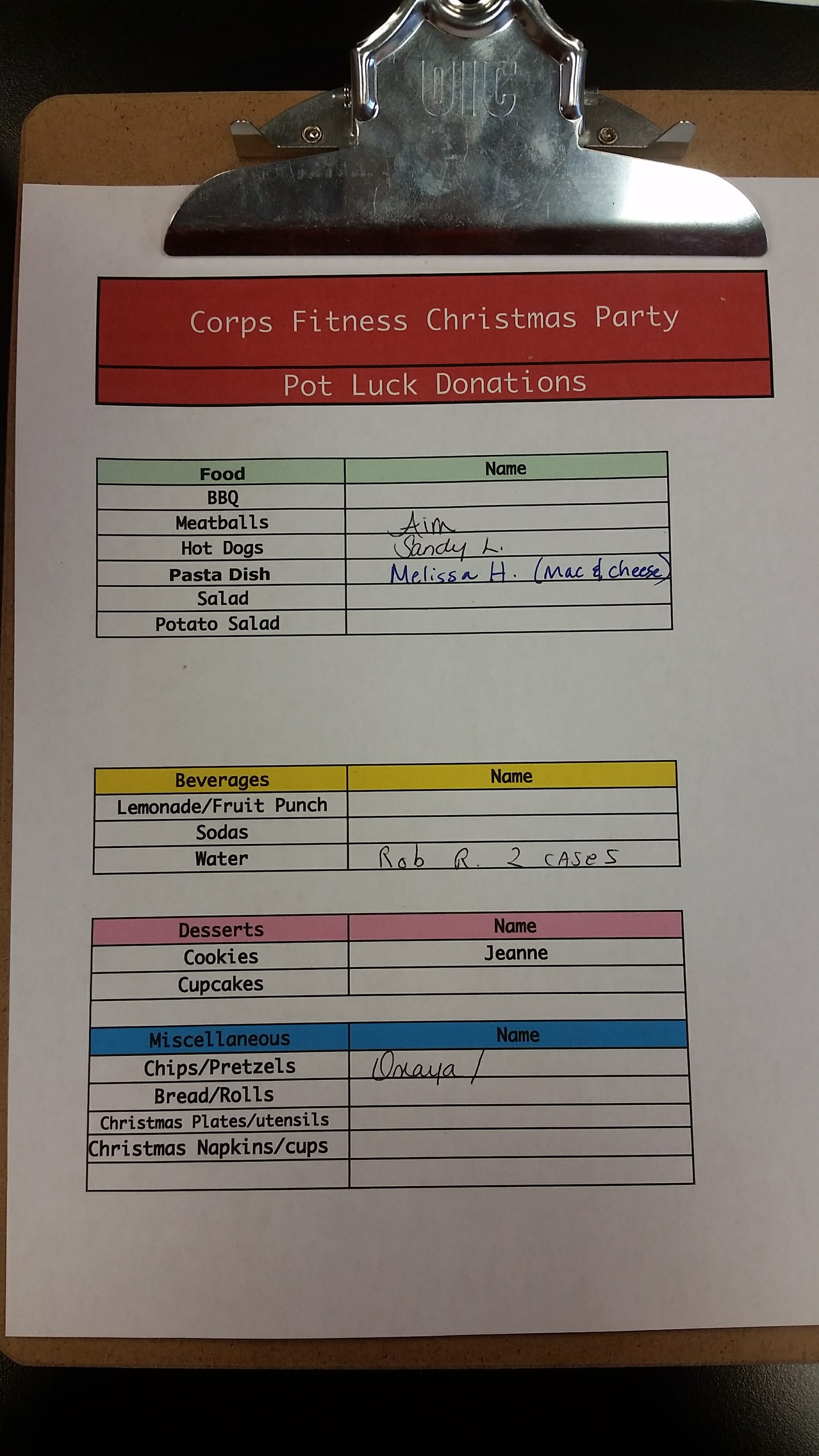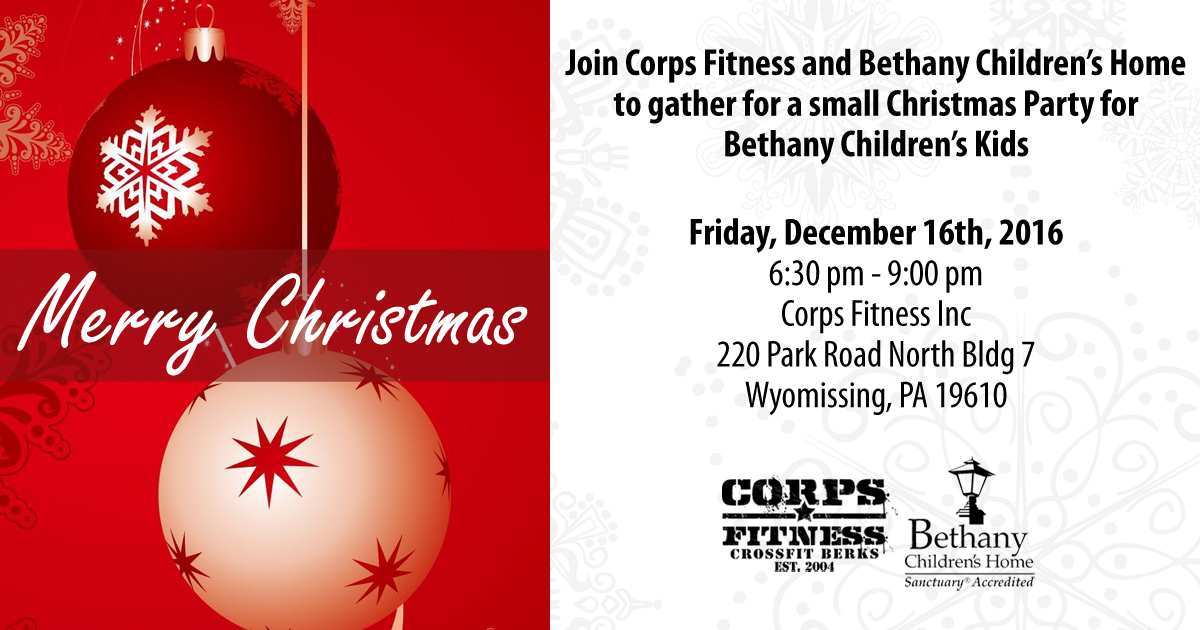 All CFers are welcome!  We'll be placing a Christmas tree in the CF lobby with wish list items from the kids on it.  If you're interested, pick up a tag and bring in the wrapped gift (with tag attached) so we can present to the kids at the party!  Please return gifts to the front desk by December 12th so we can be sure everyone's covered!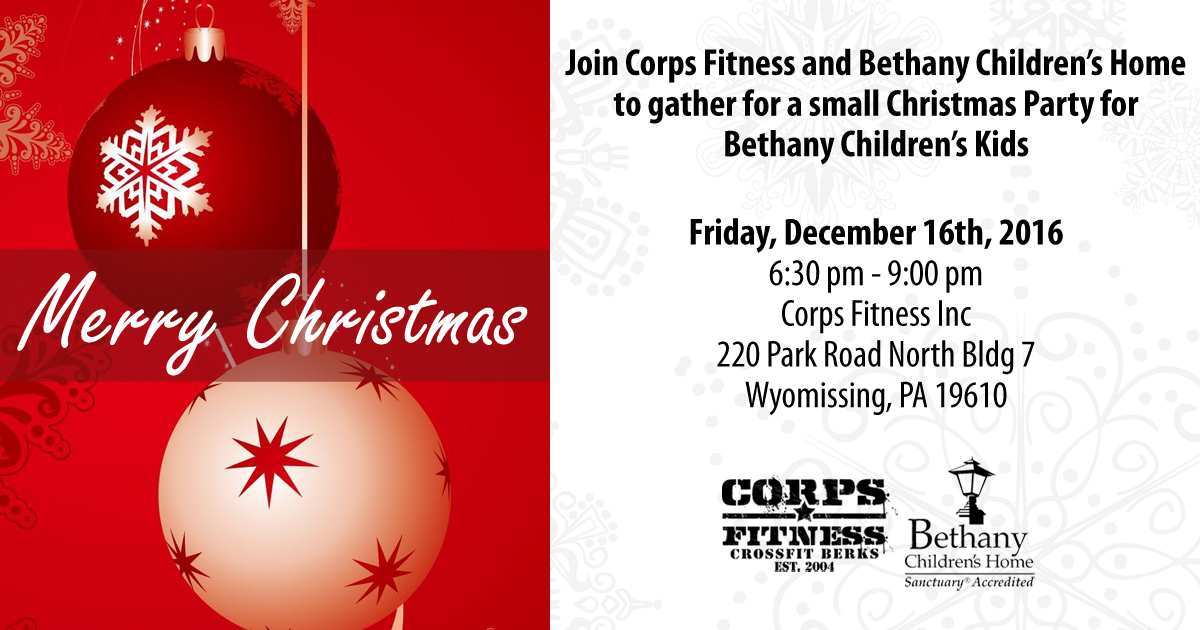 Our friends and teens from Bethany's Children's Home will be coming to celebrate the holidays with us on Dec. 16th, and we'd love to have a big group of CFers there to help spread some holiday cheer to them.  There are still a few Angels hanging on our tree by the front desk.  On these Angels, are a name, age, and a few ideas for perfect gifts for these young guys and girls.  Wrapped presents with Angel affixed to package should be returned to CF Front Desk by 12/12/16.  If you are unavailable to attend the party that evening, you can still choose an Angel and give a gift that we are sure will be much appreciated!
And, if you ARE available to party with us on 12/16, would you consider bringing a dish to share?  The request list is as follows:
Entree: BBQ, Meatballs, Mac n Cheese
Drinks: Cider, Water, lemonade, * non alcoholic Egg Nog
Desserts: Cookies, Brownies, Cupcakes
Sides: Pasta Salad, Macaroni Salad, rolls/buns
If you are planning to bring any of the above items, please email either [email protected] or [email protected] and indicate what you are planning to bring.
We know this is a busy time of the year for everybody, and we appreciate your help in making this a nice evening for our Bethany Children's Home guests.


* updates
,
CF Kids
,
Challenges
,
Corps Fitness
,
CrossFit
,
Free Intro Class
,
Functional Fitness
,
Hero WOD
,
Incentives
,
Kids class
,
Social
,
Spin / krank class
A few updates while you're enjoying your margaritas today!
THIS SUNDAY May 8th is Mother's Day - All moms workout for FREE this week!
A FOND FAREWELL
For those of you who don't know, the Owens family is moving to Florida very shortly :(.  Please join us after the 9:15 AM CrossFit class THIS SATURDAY May 7th to send them off CF-style!
TEACHER APPRECIATION
We're rolling out a new pricing schedule for our teacher members!  Check out the top of CF's fees page for more information!  With summer fast approaching, what better way to stay in shape for keeping up with those kids than to participate in CF?  Try out a new class time, meet new CFers, stay in shape… what more could you ask for??
SUMMER KIDS CLASSES
See yesterday's post for summer kids class information!
MURPH - Reminder!
Did all those pullups this week remind  you of something?  MURPH is coming!  A HUGE thank you to Rob and Kim R for sponsoring the Murph Challenge at Corps Fitness again this year!  Check out the previous blog post for details on how to sign up online (if you want to) and when / how we're running it at CF.  You don't have to sign up on the Murph website to participate in the workout - just show up for class on the 28th (ONE CLASS THAT DAY, 8:30 AM).  This is a mega workout, so please make sure you are physically (and mentally) prepared.  Scale if you need to.  Listen to your body.  Don't get rhabdo!
GENERAL UPDATES
- CFers, join us for a CFer social hike up to the Pinnacle in Hamburg next Sunday May 15th.  Meet at CF ready to leave at 8:30 AM, or meet in the reservoir parking lot by 9 AM.  Rain date TBD if necessary.  Out and back hike, approximately 7 miles, slow pace, plan for it to take most of the day / returning early to mid afternoon.
- The Kaag Challenge is extended indefinitely, so be sure to get in touch with Chris or Melissa for a time slot!  If you have already completed the Kaag Challenge, remember to stop by the front desk for an IM ABLE t-shirt.
- A reminder to check out the CF Loyalty Program and Incentives we announced April 1st. You can also earn points via membership and merchandise purchases!  Check out the link for full details, and start earning today!  For newbies looking to take advantage of the incentives, remember you must attend an intro class first.  After that, you're be eligible for 2 weeks of free membership and then an additional month at $70.
SCHEDULE UPDATES:
- REMINDER: Saturday class times are now 8 AM (Corps Fitness) and 9:15 AM (CrossFit).  Two different class types on a Saturday!
SPIN / KRANK
– Tuesdays 10:30 AM with Aimee
– Thursdays 6:30 PM with Mike
– Wednesday and Saturday SPIN classes are on hiatus for summer.
FREE INTRO CLASSES
Next Intro to Corps Fitness class will be Saturday 5/14 at 9:45 AM with Chris.  Come on by and the take advantage and participate in our incentive program!
WEEKEND INSTRUCTORS
Friday 5:30 PM – Gretchen
Sunday 8:30 AM – Brian
Sunday 9:30 AM – Skills is no longer on the schedule.

Today we honor Tom Kaag; born 1/2/54 and went to parade rest 3/4/12. Chris will be teaching the 5:30PM class, and we invite all (even if you did not take class) to stay afterwards to raise a glass in memory of Tom.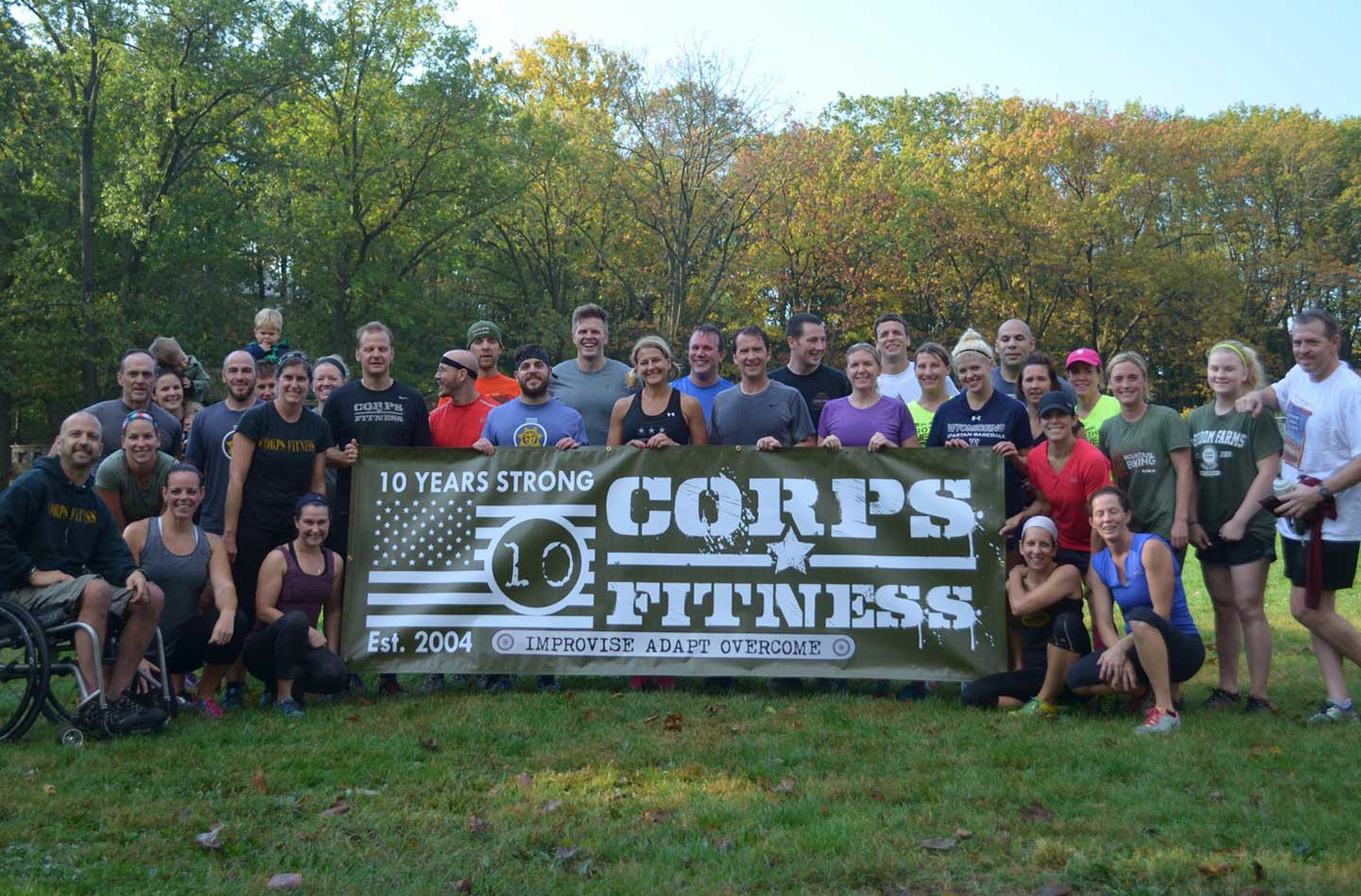 Corps Fitness is keeping up with the times!  Along with our new website, did you know we also have facebook, instagram, and twitter accounts?  We like everyone to stay in-the-know and be able to SEE everything we do!
And just because we don't brag about our accomplishments doesn't mean we don't have them:
CFers are known to be a humble breed, but we are also badasses!  Though we aren't a great fit for the often narcissistic culture that's pervasive today, WE ARE incredibly proud of everyone's accomplishments due to your hard work and perseverance inside the walls of Bldg 7 (and outside).  If you're so inclined when you see videos of people performing crazy moves like insane double rope climb MB tosses, or L-hold rope climbs or burpee back flips online, take a shot at it yourself*.  OR just generally post pics / videos of yourself being a CFer (some of you already do, which is pretty cool), reaching a personal goal, or doing something you once never though possible or that CF inspired you to do.  Tag #WeAreCorpsFitness, #CorpsFitness, #CorpsFitnessPA, #ILoveCorpsFitness, or any other fun hashtags giving props to Corps Fitness.  We'll do our best to pick up hashtags on the blog so we can give you a shout-out, and so the world can see what we're capable of!  …Because we're not big on bragging, but we KNOW our CFers are awesome and deserve recognition for what you all do every day!
*DON'T be like this.  And this should go without saying, but please don't damage yourself, others, or any equipment in your pursuits!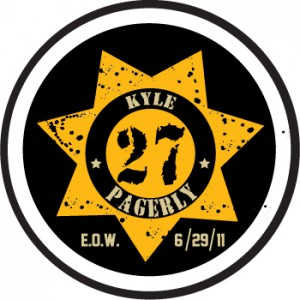 Honoring our very own fallen CFer, Kyle Pagerly, tomorrow:
Smokehouse dedication / Bio reading 9 AM
Class begins immediately after dedication
Spin / krank class also at 9 AM
Class ends around 10 AM
Dundore / Heister will be on site with delicious, fresh, local, clean food as well as their new bad-ass grill!  Plan to hang around for at least an hour or two socializing, having some food and beers!
Bring cash!  Food will be available to anyone in attendance - no set prices, but donations requested.  All $$ raised will be donated directly to the Kyle Pagerly Memorial Fund in order to keep programs like CF's Badge 27 running, providing affordable fitness opportunities to our local first responders.