SPECIAL EVENTS
Piper McDonough Workout tomorrow 4/1, all class times!  Dedicated CFers Tim and Emily McDonough have a pup in serious medical need.  In true Corps Fitness fashion, we're rallying workouts to offer Piper and her family a little extra fight.  If you'd like to help Piper with her fight by helping defray her exorbitant medical costs, there will be a collection bucket in the lobby.  If you choose, you can either offer a flat donation or you will have the option of paying a dollar amount for each Round you accumulate in the workout….your choice.  Workout will be a hybrid format.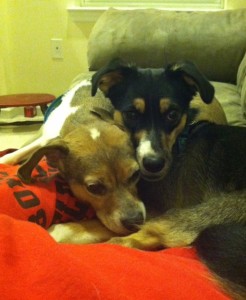 "Dogs are not our whole life, but they make our lives whole." -Roger Caras
We'll be announcing two new membership perks on Friday 4/1!  Stay tuned to our blog and facebook page to see what's cooking!
Saturday 4/2, Corps Fitness will be hosting female Marine Corps Poolees and a female drill instructor from 10 AM - 3PM.  Feel free to stop by or stick around after 9:30 to see what it's all about.  And trust me when I say the female DI might just make our own instructors seem like gentle kittens!  Welcome, future Marines!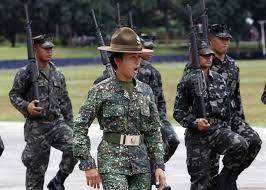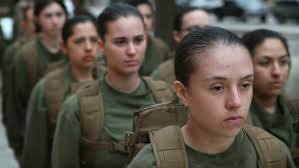 Sunday 4/3, The Wilson IM ABLE Chapter is hosting a Running Out Loud 5k and Last Chance Egg Hunt, raising money for a grant to local student Emily M.  Check out more on their website!  Race-day registration is available!
OCR TRAINING
We need 2 more participants to make this class happen!  Spread the word!
Classes with Van will be held Thursday nights at 6:30-7:30 PM from April 7th – May 5th.  You do NOT have to be a Corps Fitness member to join in these classes!
Current CF member – $40
Non-CF member – $75*
*Includes a one-time opportunity to purchase a one month unlimited CF membership for $90.
This class is a huge deal compared to the prices at other locations.  And if you take advantage of a CF membership when you're finished, you'll be sure to stay in racing shape (or better) for the entire season!
SCHEDULE UPDATES
We are re-configuring some spaces in the gym to work the best for everyone, and the spin classes will be moving onto the main gym floor starting April 1st.  Due to this change, the class times are changing to what is indicated below.  With this change, we welcome our IM ABLE adaptive athletes to come out during any regularly scheduled CF / CrossFit class time and take advantage of the opportunity to work out alongside the entire class!
SPIN / KRANK
Spin on Thursday night at 5:30 with Mike Vecchio!!
Spin 9:30 AM 3/26 – NO CLASS DUE TO MARINE POOLEE TRAINING
As cycling season is beginning to ramp up, our spin / krank classes are a great opportunity to get those base miles in before the first race or big ride of the year!
Regular spin / krank schedule STARTING APRIL 1st* (see schedule updates):
– Tuesdays 10:30 AM with Aimee
– Wednesdays 6:30 PM with Lisa
– Thursdays 6:30 PM with Mike
– Saturdays 9:30 AM with rotating instructors (exceptions will be noted in blog updates)
FREE INTRO CLASSES
Next Intro to Corps Fitness class will be Saturday 3/26 at 9:45 AM with Chris
Intro to CrossFit classes are suspended until further notice
CROSSFIT OPEN
Congratulations to ALL CFers who participated in the OPEN this year!  Hopefully you learned something about yourself, tried a few new movements, and got something out of it.  Final CFer results are posted below!
GOT THE NERVE – CFer DEAL - Expires TOMORROW
FLASH SALE for GTN registration, all CF members have the opportunity to register for the 13th annual triathlon at 2015 rates.  Race is May 21st, flash sale runs through April 1st.  Email [email protected] to get the registration code.
WEEKEND INSTRUCTORS
Friday 5:30 – John
Sunday 8:30 AM – Emily
Sunday 9:30 AM – Owen (open time and CrossFit skills)

Your ego may say: stop, quit, you can't do it
But what are your limits??
Listen to this Radiolab story about iron woman Julie Moss and others pushing their limits (warning - it's not pretty!!).
Your muscles have a lot less to do with your limits than you think!  Don't believe the flashing "E" when you have fuel left in the tank!  Listen to the whole show and learn something - the human body is truly capable of some amazing feats!!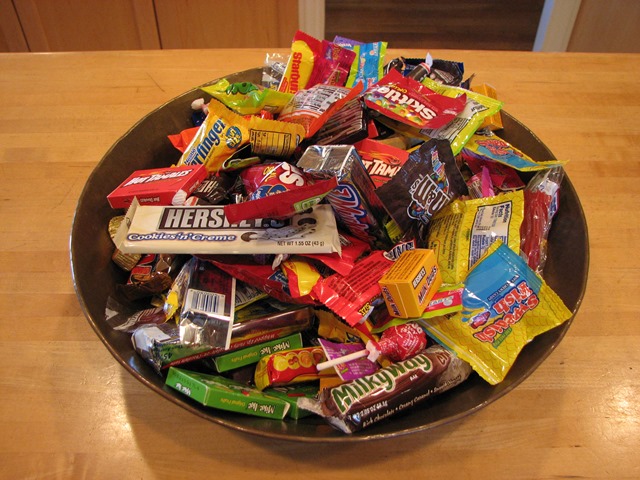 Point / counterpoint Monday…
An interesting, if possibly mind-bending, article from Kelsey Miller on how some of us may treat our treats…  For your Monday enjoyment!
"People who live with a designated candy drawer, unlocked and accessible at all times, don't generally obsess over their stash. That's because it's not a stash to them."…
…"You just can't tell yourself to stop obsessing over Hershey's Kisses and expect your brain to say, "Roger that! Deleting all anxiety, behavior patterns, and personal history in regards to chocolate products." Perhaps that would be possible if you committed to a lifetime of deep psychological work or a partial lobotomy. Or, you could just get yourself a candy bowl."
- K. Miller
And a counterpoint:
Cornell study / candy on the desk is candy in the mouth
"The study finds that women eat more than twice as many Hershey Kisses when they are in clear containers on their desks than when they are in opaque containers on their desks — but fewer when they are six feet away."
- S. Lang
What are your thoughts / experiences?  I can have a plethora of candy and sweets around for months, have a few once in a while, and never give them a second thought (even if they're visible).  But when I toss them all or experiment with an eating method that completely limits sweets, I think constantly about not being "allowed" to have them and it's ALL.I.WANT.

Here's a good listen from Eat to Perform for your Saturday enjoyment…  a little rant about form, pushing yourself, and criticism in the beginning (with a good message), and then some discussion on fueling your body for your individual needs.
Some take-aways:
- Sometimes it's f*#&ing hard to walk through the gym doors, especially for those without a life-long athletic background.
- Don't make it harder by bashing people for trying, even if they don't have the best form to start. (Not saying anyone does.  But, like Paul says, it's easy to find online in open CrossFit forums, etc.  Haters gonna hate…)
- Encourage and help rather than criticize! (CFers are pretty great at this!)
- Welcome new people and help them fit in!- Sometimes the first rep (or few reps) at a higher weight might be ugly, but it's the first step to get you past that weight you're stuck on right now!  (personal note: this isn't a carte blanch to use bad form, but rather a little wiggle room to push yourself every day and test those boundaries.  You never know when you might make that next jump!)
- Fueling depends on your needs, what your activity level is, what your goals are.
- Time changes can affect your weight and stress on your body.  Listen and adapt!
- Naps are magical (if you can get them)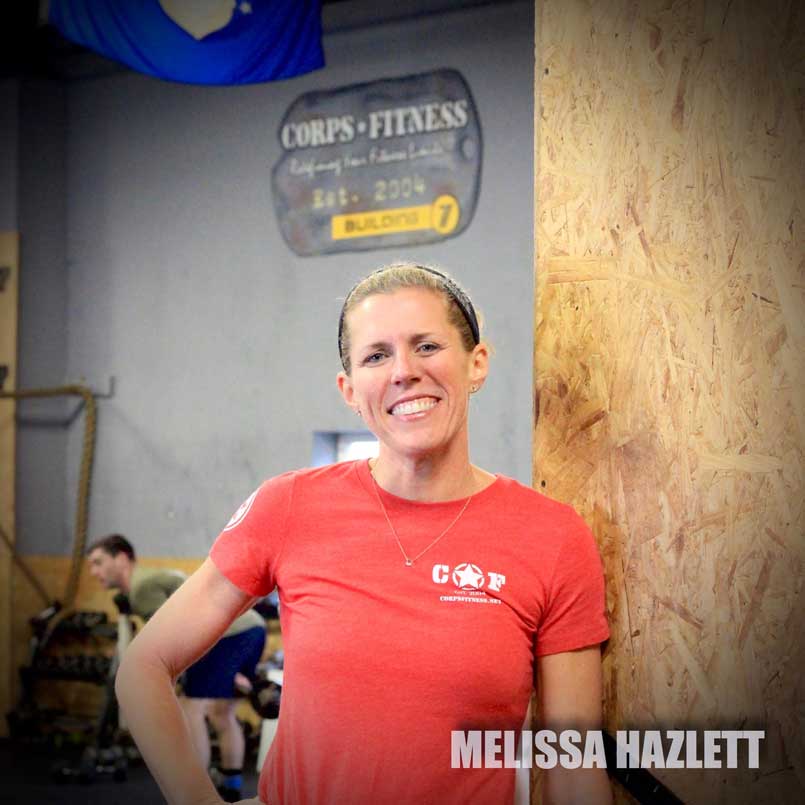 A big Friday shout-out to Melissa H!  Melissa has been working her a$$ off with CF for years and became Corps Fitness' program director in 2015.  Melissa is a long-time CFer, has a group fitness certification from NETA, has taken several continuing ed Core Assessment Training and Running courses, is CPR / AED certified, and is working on a Nutritional Counseling Certification from AFPA!
Here is a little background on Melissa and her dedication to Corps Fitness, in her own words:
When did you start CF, and what brought you in?
I started at Corps Fitness 8 years ago when my youngest of 4 was 18 mos. old.  My brother Steve and sister in law Kristen were actually the ones that kept telling me to try it out, that I'd love it.  Like many, I was highly nervous, but one class, and I truly was hooked.   As I've said before, prior to Corps, I've been a member of many other gyms, but I never have stayed a member as long as I have at Corps.  It sounds so repetitive to what so many people already have said, but it truly is the people that come to Corps and the fact that you never know what you are going to get in terms of the workout.  I'm super excited that a lot of the same people that I started with at Corps are still working out alongside of me (and still kicking butt!)….shout out to the Kuhn's, Dave McLain, Chris Adams, Catharine Lentz, Natalie Parisi  just to name a few!
What do you enjoy about teaching at CF?
I've been teaching classes as a part of the Corps Fitness team for almost 3 years now (can't believe it's already been that long!), and I love to see all the old-schoolers as well as all the new faces each week.  And I love the challenge of creating new workouts (or just fun tweaks on oldies but goodies), that test both the avid athlete and the new-to-join Corps.
What do you look forward to in the future for CF?
I look forward to bringing some more fun individual and partner challenges to keep things interesting and to keep people striving for new goals and accomplishments (be on the lookout for a fun one in mid-April!).  I also look forward to creating some larger events that invite non-corps Fitness members into our gym to see what we are all about.  I also am finishing a new Nutrition Counseling certification that I hope can be helpful to our members.  And, while everything I do or plan revolves around our core philosophy of Respect, Accountability and Teamwork, I am always open to ideas from our Corps Fitness family!
Did you catch her casual mention of her family, including 4 kids!?!  Congratulations, Melissa, and thank you for your support and dedication to CF since you started!  We can't wait to see what the future holds for you and Corps Fitness!!

Diggin' back in the archives for this one.  As spring approaches, think fresh!  Fresh food, fresh air, fresh perspective.  Maybe some fresh comments?  Did you know comments are back?  Happy Wednesday, CFers!
From "FOODIE BRAIN DUMP" MAY 30, 2014:
If we've said it one, we've said it a thousand times… Fat DOESN'T make you fat!!!  There have been several contradictory health / nutrition studies in the past few decades, serving to do nothing more than confuse the [email protected]&% out of everybody…  Leading to people just throwing in the towel and doing whatever they want to because "blah, blah, blah.  Nobody knows anything anyway…"
Here's a brief overview of what we've learned through our CF food challenges of the past:
It's hard.  Yep, it can be.  Let's move on.
Insulin spikes = bad.  Keep that blood sugar steady and avoid the constant highs and lows associated with quick sugar rushes (and subsequent crashes, leaving you craving more).
Watch for the hidden sugar.  It's everywhere!  Vitamin water?  Not so much…  Low fat?  High sugar…  New and improved?  Doubtful…
Go clean and natural.  It's hard to hide additives in a head of lettuce or a carrot (though not impossible, and surely food companies are working on it at this very moment).  Go natural / locally grown / non-processed / clean food!  Know where your food comes from.
Or go organic.  If you want to, it's probably a great idea.  But still know where it comes from!  Did that organic, grass fed steak travel from Australia or Uruguay?  …and how does it only cost $7.00?  …and where do I get that plane ticket?
Or grow your own!  What better way to reconnect with the earth and feel that much more self-sufficient than by digging in the dirt and watching food grow straight out of the ground?!?
Start small.  Substitute fruit for candy, replace a soda with water, sub salad for fries at the restaurant.  Sure, it'll seem different at first, but is different inherently bad?  I think not.
Don't do it because everyone else is.  Educate yourself about the hows and whys of dietary changes.  You'll understand what's going on with your body and be more motivated to step away from the bad stuff…
It's not a diet; it's a lifestyle.  "Diet" has become a dirty little word with temporary connotations.  Avoid the hype and make the change.
Figure out what works for you.  What works for someone else may not be your cup of tea, and that's ok.  Figure out what works for you (it may take weeks / months to figure out) and tweak it until it's just right.  Don't make excuses and don't give up.  Just figure it out!
But if this is all a little overwhelming, just consider: everything in moderation!  There's nothing wrong with an occasional meal out or sweet treat from the store.  Just don't do it all the time.  And chances are, if you're eating clean, you'll really notice the negative effects of putting junk into your body and be that much more likely avoid it the next time.
-G Kaag

Goals!  What are your goals?  Here are a few I've heard over the years:
I want to get faster
I want to lose weight
I want to get healthier (for my wedding, for an event, or just in general)
I want to get stronger
I want to do a pullup
I want to do pushups off my knees
What's common about these goals?  While they're all great aspirations, they're pretty non-specific.  Similar goals may be very different to different people.  For example, getting stronger might mean lifting a certain amount of weight to one person and might mean getting up off the couch more easily to another.  So let's dig a little deeper:
I want to run a mile in under 6 minutes by XX
I want to lose 10 lbs before the school year ends
I want to learn new healthy recipes and plan / cook my weekly meals ahead of time (still somewhat generic), starting now
I want to be able to carry my growing baby / toddler when he / she wants or needs me
I want to do 1 pullup by March 31st and then learn to string together 5 or more by April 30th
I want to do 10 consecutive pushups off my knees
Whatever your goals are, here are a few steps to take to make them reality (courtesy of Michael Hyatt):
Set SMART Goals:
Specific
Measurable
Attainable
Relevant
Time-bound
Get motivated!: If you're not motivated to attain the goal, it's super unlikely you're going to work towards it (this goes in the "obviously" category)
Write it down: Clearly define what it is you want…
Make a plan: …and how you plan to get there
And a couple I added myself:
Own it - set goals that come from within.  If it's something imposed on you by someone else, it's unlikely you'll be motivated to reach your goals.
Celebrate your success!  What's success without a little celebration?  Do something you enjoy to celebrate your accomplishment!
Continuously improve: Once you meet one goal, what's next?  Make sure to keep sight of how you have changed / grown in meeting your goals.  Maintain that success and carry it through into the next one!


A few great articles on nutrition from Breaking Muscle.  If you haven't checked out this site, it's always got a ton of great information and thought-provoking articles!
Good vs Evil: Food is not a competition
"If you feel like you are on a diet, you are, and you will fall off. Eat foods you enjoy so you won't feel deprived. Make a huge list of foods that you love. Forget the healthy or not thing, and just write them down. Then consider how you can include them in your menus and still be aligned with your health objectives."
-Mark Halpern, RD, Breaking Muscle
What people eat is none of your business
"If you have found that adhering to a particular testament in your diet has worked wonders, congratulations. But understand this does not mean your revelation will hold true for your unsuspecting victim. People ask for help, and can only be helped if they want it. Discovering what works for them with their own agency is fundamental to individual empowerment and the success that follows. So let coaches coach. And get on with your own workout."
- Sam Macintosh, Breaking Muscle
Your diet is not normal: Here's why
"Similarly, basic diets might work for many people who are overweight. But as you approach your goal physique, your nutrition needs to be tailored to you. Someone else's diet might not be the best solution. As you build your individualized nutrition plan, remember that systems interact, and your digestive system is as unique as you are."
- Craig Marker, PhD, Breaking Muscle

What does CF mean to you?  To me, the first words that come to mind are: family, motivation, loyalty, hard work, humble… the list goes on.  CFers are the first people outside of work that I met when moving to the Reading area nearly 10 years ago.  If you come from an "outsider" background like me, you may be familiar with the feeling of moving to the area, where it seems like everybody has known everybody since they were toddlers.  It can be an intimidating atmosphere to enter, but boy am I glad I found the Corps Fitness family!  What a welcoming group of people, mentors, and community leaders.  Though it's changed over the years, one thing remains the same - I know that when I walk through those doors, I am surrounded by the best people around and I am going to get the most motivating hour of my day thanks to our instructors and fellow CFers.  Thank you all for making Corps Fitness what it is!

WE ARE all CFers!

Today's workout: Form session then 7s - DL / Clean / Burpees / PullUp / Box Jump / T2B / Run or Row

'