Tomorrow's class is 9 AM only!  (1/1/15)
CF Throwback apparel at the front desk is currently discounted 20%!
Hero Week shirt orders ($25.00 separate from HW package) will be taken until 
Jan 1st
!   Stop at the front desk to see samples and order.
Garage Strength schedule updates / changes:
- GS will be closed January 8th and January 15th.
- GS will be open 3-5 this Friday January 2nd and 3-5 January 23rd.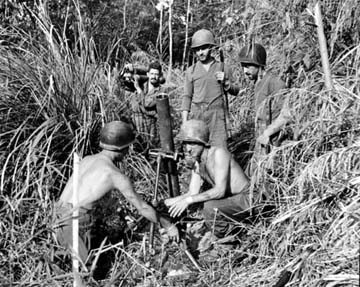 Chief of Staff, General George Marshall wrote in a final report on a little known unit in World War II that became known as Merrill's Marauders, "In the thick of battle the soldier is busy doing his job. He has the knowledge and confidence that his job is part of a unified plan to defeat the enemy, but he does not have time to survey a campaign from a fox hole. If he should be wounded and removed behind the lines, he may have enve less opportunity to learn what place he and his unit had in the larger fight."These words best describe a military unit and action that took place at the end of WWII where a unit of just 3,000 men were assemble to eradicate the Japanese, their supply and communication lines, from the country then known as Burma.The Marauders were foot soldiers who marched and fought through the dense and almost impenetrable jungles of Burma. The unit was made up of 3,000 volunteers selected based upon "a high state of physical ruggedness and stamina" considering the mission and landscape they would face cut off from normal supply lines and facing unusually harsh conditions.To prepare, calisthenics and marching with packs were done every day with increased intensity and duration to condition the men to be "physically hard". Their mission started with a month long 1,000 mile trip by train and boat with the last 100 miles marched in 10 days on foot carrying their gear. The mission was intense in not only the fighting engagements with the enemy but the arduous conditions of marching in the rugged jungle mountain terrain. Battle casualties were experienced from fighting the enemy, but equally challenging to the mission were the disease casualties coupled with the sheer exhaustion from the physical demands of this mission.In the end, this mission would not have been successful without the resilient support that each soldier provided toward one another as a unit. This mission, while not reported as much as other stories to come from WWII and perhaps not viewed as important in the overall campaigns we most know about, was important to these men. Regardless of whatever the importance of the mission may have been at the time or considered today, these 3,000 young men went into this fight as a unit believing that the fight in front of them meant everything to the larger mission. They traversed over 750 miles of jungle terrain, more than any other US Army unit in WWII. Each soldier in the unit received the Bronze Star and the unit was awarded the Distinguished Unit Citation.The legacy of Merrill's Marauders lives on today as the 75th Ranger Regiment is a descendant of this original unit.

Jack Lucas credits his mother and father for his strong sense of patriotism. It was his patriotism, and also his aggressive, highly emotional personality, that brought him to forging his mother's signature on enlistment papers immediately after the attack at Pearl Harbor, and joining the United States Marines when he was only 14 years old. The Marines did catch onto his age when they censored a letter he wrote to his 15 year old girlfriend. When he was threatened to return home, Lucas's answer was he'd join the Army and give them the advantage of all the training he received as a Marine. After going through various trainings, and still being dissatisfied at having seen no combat or more specifically, no opportunities at killing the Japanese enemies, Lucas took actions into his own hands by stowing away aboard a Navy ship carrying units of the 5th Marine Division headed for combat in the Pacific. He was considered a "deserter". While onboard, he surrendered to the senior troop officer, but they allowed him to stay. While at sea, he turned 17.The day after landing at Iwo Jima, Lucas was twisting through a ravine with 3 others from his rifle team when the Japanese opened attack. 2 enemy grenades landed nearby; Lucas quickly put his body over both. One detonated, the other did not. The men he ultimately saved thought he was dead and left. He was later found and given medical attention by another company. 250 pieces of shrapnel, including one in every major organ, were eventually found and most removed over the course of 26 operations in the months to follow. Because of his heroic actions, he was awarded the Medal of Honor; he was the youngest Marine ever to receive this Honor.He was discharged from the Marines in 1945, took a position as a rep for the Veterans Administration, but later returned to military service at age 33, by completing his paratrooper training and being commissioned as Army 1st Lieutenant. Much to his disappointment, he never saw action in Vietnam.Jack Lucas died June 5, 2008.

The Filthy Thirteen is more formally known as 1st Demolition Section of the 506th Parachute Infantry Regiment, 101st Airborne Division. They were a skilled group, but not always the most disciplined of soldiers. Most notable among their group was James "Jake" McNiece. Mohawks and face paint became the signatures of the 13, under the suggestion of McNiece, who was part Choctaw.
Their involvement in the war started on D-Day, June 6, 1944, when they parachuted behind German lines just ahead of the invasion of Normandy. Under the direction of McNiece, their goal was to destroy Nazi supply lines and escape routes. Some called it a suicide mission. During their 36-day mission, they destroyed 2 bridges and took control of a 3rd, but in doing so, lost 16 of his men.
McNiece specifically went on to do 3 more jumps behind enemy lines, a very rare feat, including Eindhoven, Holland where he fought for 78 days. He then volunteered for a top-secret group called the Pathfinders who lost 80% of its men during missions. And he led paratroopers at Bastogne during the Battle of the Bulge.
These men know as the Filthy Thirteen derived their name from the fact that they only showered and shaved once a week and rarely laundered their clothes.
Workout: Team style workout using Alpha and Bravo
1 mile run
8 x 20 calisthenics with team
Walking group bar lunge around Bldg 7
8 x 20+ weighted exercises
200 m lid push with team

John Basilone started his military service as a part of the US Army stationed in the Philippines. When World War II began, he wanted to be a part of the action and figured the fastest way of doing so was to join the Marine Corps, which he did in 1940. He led the Dog Company, 1st Battalion, 7thMarine Regiment, 1st Marine Division when the US invaded Guadalcanal, the first amphibious landings of the war. During the Battle for Henderson Field, an airfield, Basilone was in charge of 2 sections of machine gun consisting of only 15 men and 4 heavy machine guns. Amid torrents of tropical rain, Basilone and his men endured attacks almost non-stop for two days. The fighting ceased at sunrise and "For extraordinary heroism and conspicuous gallantry in action against enemy Japanese forces, above and beyond the call of duty", Basilone was awarded the Medal of Honor. The citation further states that his selfless efforts contributed "in large measure to the virtual annihilation of a Japanese regiment" ~ this the equivalent of about 3,000 enemy soldiers.After his time at Guadalcanal, Basilone returned stateside to do a War Bond Tour, but desired heavily to return to action. He turned down a commission as an officer and then an assignment as an instructor before his superiors finally allowed him to return to the Pacific. He was assigned to Charlie Company for the invasion of Iwo Jima. It is here, entering with the 1st wave of Marines on February 19, 1945, while working his way up an airfield while continuously under attack, that he was hit by mortar shrapnel and died. His actions at Iwo Jima helped the Marines get off the beach, and for these heroic efforts, he was posthumously awarded the Navy Cross.John Basilone is the only man to receive both the Medal of Honor and the Navy Cross for actions in combat during World War II. His niece states in her documentary, "On Guadalcanal, he'd become a hero. But returning to the war in Iwo Jima made him a legend."
Workout: 
5 rounds (14 minute cap)
4 HSPU
8 Box Jumps
12 Bar Facing Burpees
THEN:
100 DU
50 Squat Cleans
100 DU
30 Squat Cleans
100 DU
10 Squat Cleans
100 DU

Company E 2nd Battalion 506th (otherwise known as Easy Company) formed on July 1, 1942 at Camp Toccoa, GA becoming the 1st parachute Infantry regiment to complete basic training and parachute training as a unit. Easy Company, with 140 men in its ranks, entered the war on June 6th 1944 with the invasion of Normandy. After their jump into France, they performed a key task during D-Day by eliminating 4 German 105mm cannons aimed at Utah Beach. From there, they went on to fight in Holland in what was known as Operation Market-Garden to secure bridges over major water obstacles, with the crown jewel bridge being that over the Rhine River into Germany. Next, they held the line while completely being surrounded by Germans and with minimal winter clothing and scarce ammunition and supplies in Bastogne, in what is known as the Battle of the Bulge. They continued by being put into the lines at Hagenau, and after there, they were moved to France, where they were finally able to shower, have hot meals and sleep on cots. It is during this time that they were awarded the Presidential Distinguished Unit Citation, which was the first time in Army History awarded to an entire division.They ended with securing Hitler's Eagles Nest in Berchtesgarden. By the end, 48 who served in easy throughout the war lost their lives. More than 100 of the men were wounded, some more than once.Their battle cry stemming from their days at Camp Toccoa was "Currahee!" which means "stand alone", but not one man stood alone; they stood together as one.
Workout:
Team lead / follow style, 2 rounds

2nd Lieutenant Louis Zamperini United States Army Air Corps - In May 1943, Zamperini was serving as the bombardier on a B-24 that was searching for a missing plane when his own aircraft developed mechanical problems and went down in the Pacific. Only Zamperini, the pilot, Russell Allen Phillips, and tail gunner, Francis McNamara survived the crash. The 3 men stayed alive in their small raft by drinking rainwater and eating the occasional seabirds and fish they were able to catch, all while facing strafing from Japanese bombers and the ever-present threat of shark attacks. After a month at sea, McNamara died. On the 47th day in the raft, Zamperini and Phillips, having drifted some 2,000 miles since the crash,   were picked up and taken prisoners of war by the Japanese.   They spent more than 2 years in a series of prison camps where Zamperini, a former Olympic runner, specifically was singled out for abuse and vicious torture by one camp sergeant nicknamed "The Bird".   The defiant American managed to survive and was released after the war ended in 1945. Zamperini credits his athletic training in helping him withstand the torment. He died July 2, 2014.
800 m run
5 rounds:
10 pullups / 20 pushups / 30 air squats
800 m run
5 rounds:
10 ring rows / 20 push press / 30 krank
1 mile run

This Hero Week, remember to do something special.  We're honoring WWII heroes each day, December 26 - Jan 1.  Come on out for as many days as you can make it.  Check the CF Hero Week site for schedule updates and honor roll.
A few notes:
Listen to your body!  Don't get rhabdo!  Scaling is available for everyone.  You're not a wimp if you're scaling the workouts.  Everyone pushes to their own limits.  Look out for your neighbor but don't compare yourself to what your neighbor is doing.
We honor those who served and often paid the ultimate price during their time of service.  Each workout promises to bring the Corps Fitness spirit along with a tough, intense workout.  Looking ahead, each day may seem impossible but looking back you'll be surprised at how far you pushed and what you completed in honor of the heroes of WWII.
See you there!!

'