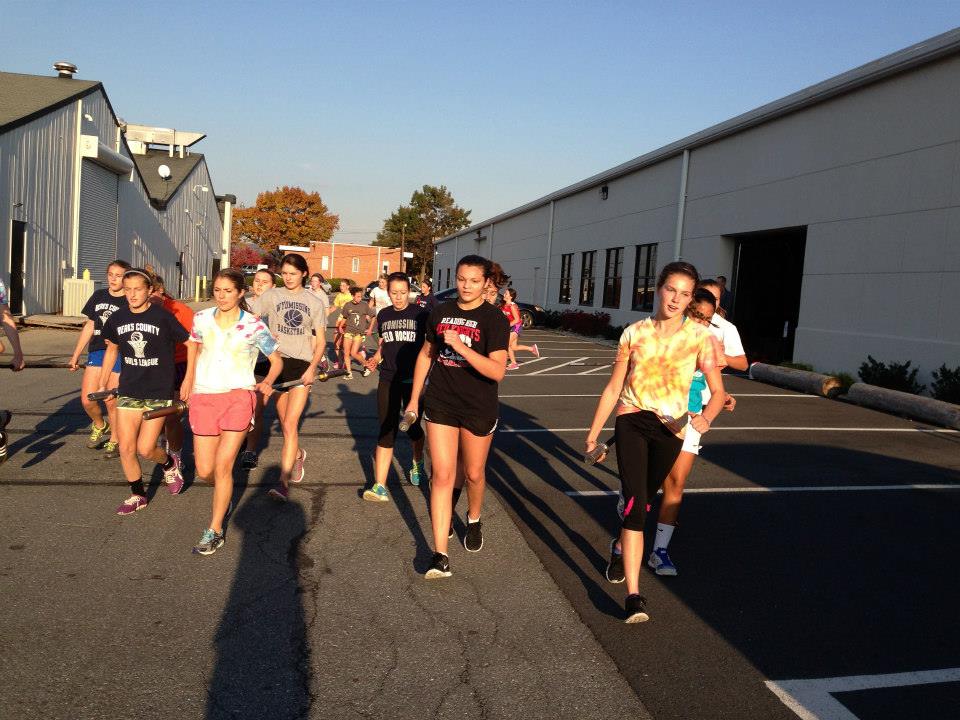 From Wyomissing to Mifflin to Wilson to Daniel Boone students and more, Corps Fitness has hosted teens looking to improve speed, strength and mental fortitude.
**We are excited to announce a NEW class just for teens, ages 13 through 17 beginning this Tuesday, 12/6 and Wednesday, 12/7 from 4:15 to 5:15PM.**
Cost is $10 per class. Pay when you arrive. Parents must sign a liability form available at the front desk (or you can download and print from our website). We look forward to seeing you on Tuesday!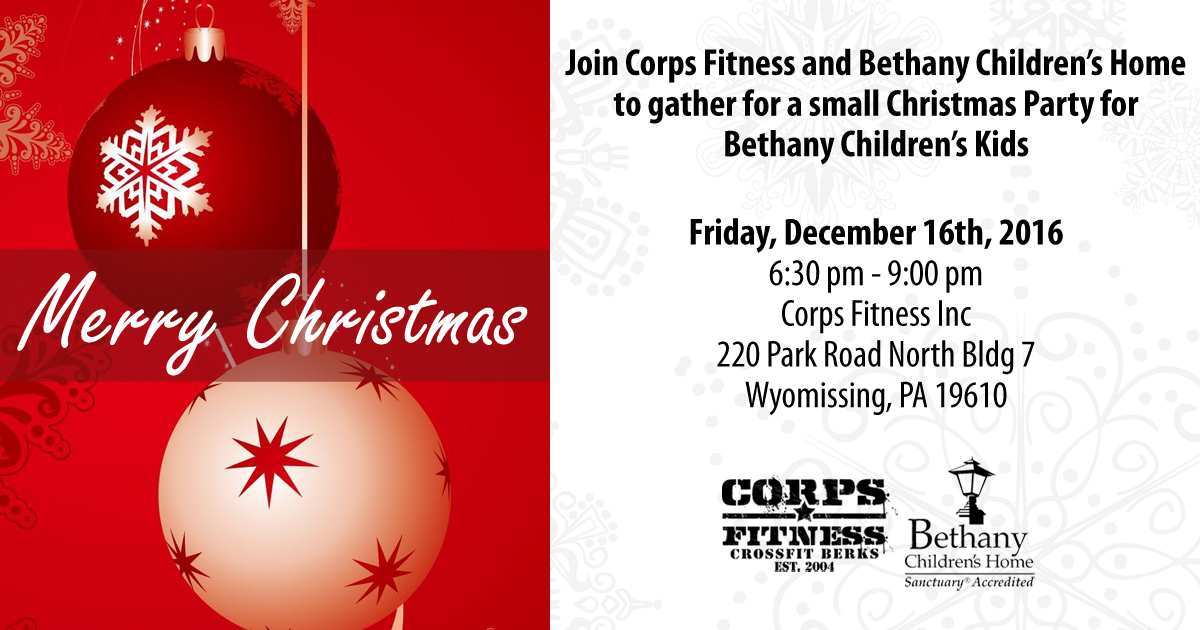 Our friends and teens from Bethany's Children's Home will be coming to celebrate the holidays with us on Dec. 16th, and we'd love to have a big group of CFers there to help spread some holiday cheer to them.  There are still a few Angels hanging on our tree by the front desk.  On these Angels, are a name, age, and a few ideas for perfect gifts for these young guys and girls.  Wrapped presents with Angel affixed to package should be returned to CF Front Desk by 12/12/16.  If you are unavailable to attend the party that evening, you can still choose an Angel and give a gift that we are sure will be much appreciated!
And, if you ARE available to party with us on 12/16, would you consider bringing a dish to share?  The request list is as follows:
Entree: BBQ, Meatballs, Mac n Cheese
Drinks: Cider, Water, lemonade, * non alcoholic Egg Nog
Desserts: Cookies, Brownies, Cupcakes
Sides: Pasta Salad, Macaroni Salad, rolls/buns
If you are planning to bring any of the above items, please email either [email protected] or [email protected] and indicate what you are planning to bring.
We know this is a busy time of the year for everybody, and we appreciate your help in making this a nice evening for our Bethany Children's Home guests.

This is Ainsley McLain, daughter of Dave and Alexis McLain.  Many of you know Dave from his work on the IM ABLE board or from his regular attendance at 5:30AM classes.  A few weeks ago, Ainsley had her tonsils removed after she indicated she had discomfort in her throat, and it was noticed that one tonsil was abnormally large.  A test on the tonsil revealed that it was a lymphoma…and more specifically, they later diagnosed it as Burkitts Lymphoma.
Thankfully there has been some good news since that initial diagnosis.  First, the doctors indicated that this was a very treatable cancer.  Secondly, it was suspected and then confirmed that the lymphoma was confined just to her tonsil…it was no where else in the body.
However, Ainsley does require chemotherapy which she already began at the start of this week, and she will conclude her first round of treatment next Wednesday.
Next Wednesday, we would like to officially join "Ainsley's Army" as her Corps Fitness family, and show her that we are in her corner and rooting for her positive outcome all the way!  All workouts next Wednesday, November 2nd will be dedicated and done in support of Ainsley and the whole McLain family.  Additionally, we are doing a pre-order of Ainsley's Army t-shirts in her favorite color, purple, with gold graphics in support of pediatric cancers.  A look at the t-shirts is below.
We need all pre-orders with sizes by this Friday at 11:00AM so that we can have the t-shirts by next Wednesday's workouts.
T-shirt pre-orders can be emailed to [email protected], or can be done at front desk.  And don't forget:  you can make it easy by simply asking the front desk staff to charge the cost of the t-shirt to the credit card we have for you on file!  Even if you are not able to make next Wednesday's workout, you still can purchase a t-shirt.  Cost is $12/shirt, and proceeds of the shirt sales will be used to purchase a meal gift card for the McLain's.
Let's do what we do best at CF and rally around and support someone within our Corps Fitness family!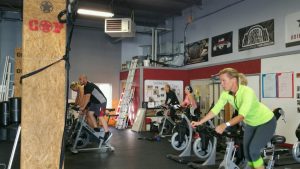 Mostly just reminders, but nonetheless, read on to stay informed!
*NO Free Intro class this Sat.  Come see us NEXT Saturday, 10/15 at 9:30AM instead!  Don't forget that folks who attend the Free Intro get their first 2 weeks for FREE, and then a discounted 1 month unlimited membership!
*LAST CALL FOR CORPS TACTICAL DEFENSE COURSE!  You must RSVP to [email protected] by 10/7 if you want to be included in this 6 week course led by Keith Neff.  $60 for all 6 weeks; heavy emphasis on Brazilian Jiu Jitsu.
*CALL TO ACTION CHALLENGE - BADGE 27 EDITION:
-Still want your team IN?  Sign up your team at front desk or print registration here:  www.corpsfitness/cta-badge27edition.  You may pay in person, send check by mail OR charge the fee to your credit card on file with us!
-Want to volunteer?  We are forming volunteer groups soon.  If you haven't already signed on to volunteer and would like to, sign up at front desk or email [email protected]
-Join us for the After Party!  The finish line of the challenge is at the Berks County FOP Memorial (at Red Bridge, Grings Mill).  However, afterwards, we will have Mission BBQ food (free for competitors!) and a yummy buffet back at CF!  The buffet costs $10/person and includes 2 pulled meats and 3 sides.  Remember that all proceeds will benefit the Kyle Pagerly Memorial Fund.  In addition to great food, we will also be having an assortment of first responder vehicles available for the kids (and YOU!) to check out!
-CTA Apparel Webstore.  Show your support!  Buy some of our event gear!  Shop at:  https://stores.inksoft.com/corps_fitness .  Once again, proceeds from the sale of these items benefit the Kyle Pagerly Memorial Fund.
*2016 KYLE PAGERLY 5K IS THIS SUNDAY, 10/9 AT 9:00AM!  Check out all the details at http://kylepagerlymemorial.com/
*LAST CALL FOR RAGNAR RELAY - TEAM CORPS FITNESS.  If you want in on this 2 day running adventure (June 2-3), and want to do it with your fellow CF crazies, email [email protected] asap.  Emily McD is going to be our fearless team captain on this "fun" experience!
*SAVE THE DATES!
-Friday, November 4th 6:30PM - Ladies Nite at CF!
-Friday, November 11th 6:30PM - Guys Nite at CF!
*SCHEDULE NOTES:
-Don't forget that Tuesday/Thursday 9:30AM CrossFit class is an Open Gym format.  Warm up, strength and conditioning portions of workout will all be posted!
-Aimee's 10:30AM Spin is back on Tuesdays!  And, we have added a 8:45AM Spin Hybrid on Thursdays with Melissa.  This new class is on a trial basis, and it could evolve into using other equipment uses such as Krank and the Ergs.  It is a cardio portion coupled with low to no-impact strength exercises.  So long as people attend, the class will stay on the schedule!
WEEKEND INSTRUCTORS :
Friday PM - Brian
Sunday AM - Ed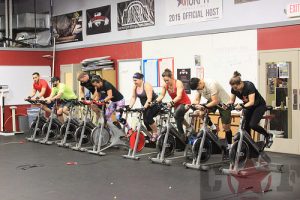 We have some schedule updates, and we are not waiting until Thursday to tell ya!
EFFECTIVE IMMEDIATELY: The Tuesday/Thursday 9:30AM CrossFit classes will now be in an Open Gym format. The workout for those days will be posted for anyone coming in at that time to perform.
EFFECTIVE NEXT WEEK: After it's summer hiatus, Aimee's Tuesday 10:30AM spin will be back on the schedule beginning 10/4. Spin classes are a great non-impact work and Aimee spins a [email protected]$$ playlist (and she might even sing for your too!). Come join her next Tuesday! **Krank-ers are welcome to join in too!!!
EFFECTIVE NEXT WEEK: On a TRIAL basis, we are going to launch a SPIN HYBRID class with Melissa beginning next Thursday, 10/6 at 8:45AM. This class is also a non/low impact class that will be part spin (hills, sprints, jumps and all that fun cycling stuff) and part strength (bodyweight, free weight, kettle bell exercises, etc.) circuit. We will be experimenting with this class as well as the time/day that it is offered to see if there is enough interest. Come and check it out!
See YOU at class!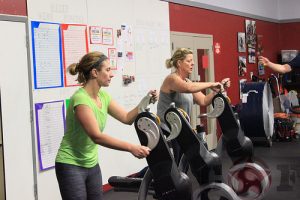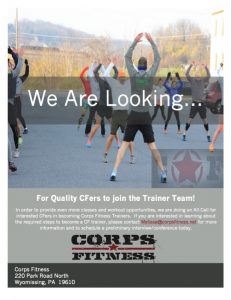 We are looking for quality CFers to join our trainer team.  If you are interested in knowing the steps to becoming a trainer, please contact [email protected] for more information!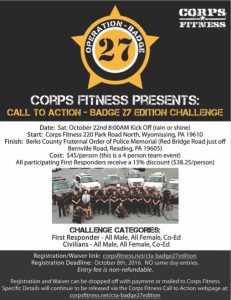 What are you waiting for?
See our Call To Action event page at www.corpsfitness.net/cta-badge27edition for all the up-to-date details and to download your team's registration form and waiver.  Registration/waiver and payment may be sent to Corps Fitness (220 Park Road N. Bldg 7, Wyomissing, PA  19610, Attn:  CTA Challenge), or may be dropped off in person to Corps Fitness.
Spread the word and become a participant in what is sure to be a great inaugural event.  And, if you can't participate, please consider volunteering!!!  (Email [email protected] if interested in volunteering.)
A portion of all proceeds will be given to the Kyle Eagerly Memorial Fund, and dog food donations will be made to our local K-9 officers.

If Target is doing it, then so are we!  Stores are getting ready for the Fall and Back to School, and we need to make way for some cool new Fall/Winter apparel and gear too!
We are having a Flash Sale beginning Thursday, July 28th at 6:30AM and ending Monday, 8/1 at 6:30PM.
All items are at 50% off, which is equal to an $11.00 sale price.
OR, you can mix and match to purchase 2 items for $20.00!
The weather is hot, but those deals are even HOTTER!  Get them before they run out!

Join us Friday, August 5th from 6:45 to 8:45PM as Police Officer and highly trained self defense instructor Keith Neff leads us in an Introductory Self Defense Course.  All are welcome, both CF Members and Non-CF Members, ages 12 and up.  Please see the flyer posted for all details.  An RSVP to [email protected] is required to reserve your spot.

'