Holy Updates!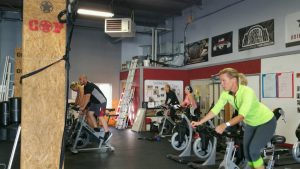 Mostly just reminders, but nonetheless, read on to stay informed!
*NO Free Intro class this Sat.  Come see us NEXT Saturday, 10/15 at 9:30AM instead!  Don't forget that folks who attend the Free Intro get their first 2 weeks for FREE, and then a discounted 1 month unlimited membership!
*LAST CALL FOR CORPS TACTICAL DEFENSE COURSE!  You must RSVP to melissa@corpsfitness.net by 10/7 if you want to be included in this 6 week course led by Keith Neff.  $60 for all 6 weeks; heavy emphasis on Brazilian Jiu Jitsu.
*CALL TO ACTION CHALLENGE – BADGE 27 EDITION:
-Still want your team IN?  Sign up your team at front desk or print registration here:  www.corpsfitness/cta-badge27edition.  You may pay in person, send check by mail OR charge the fee to your credit card on file with us!
-Want to volunteer?  We are forming volunteer groups soon.  If you haven't already signed on to volunteer and would like to, sign up at front desk or email melissa@corpsfitness.net
-Join us for the After Party!  The finish line of the challenge is at the Berks County FOP Memorial (at Red Bridge, Grings Mill).  However, afterwards, we will have Mission BBQ food (free for competitors!) and a yummy buffet back at CF!  The buffet costs $10/person and includes 2 pulled meats and 3 sides.  Remember that all proceeds will benefit the Kyle Pagerly Memorial Fund.  In addition to great food, we will also be having an assortment of first responder vehicles available for the kids (and YOU!) to check out!
-CTA Apparel Webstore.  Show your support!  Buy some of our event gear!  Shop at:  https://stores.inksoft.com/corps_fitness .  Once again, proceeds from the sale of these items benefit the Kyle Pagerly Memorial Fund.
*2016 KYLE PAGERLY 5K IS THIS SUNDAY, 10/9 AT 9:00AM!  Check out all the details at http://kylepagerlymemorial.com/
*LAST CALL FOR RAGNAR RELAY – TEAM CORPS FITNESS.  If you want in on this 2 day running adventure (June 2-3), and want to do it with your fellow CF crazies, email melissa@corpsfitness.net asap.  Emily McD is going to be our fearless team captain on this "fun" experience!
*SAVE THE DATES!
-Friday, November 4th 6:30PM – Ladies Nite at CF!
-Friday, November 11th 6:30PM – Guys Nite at CF!
*SCHEDULE NOTES:
-Don't forget that Tuesday/Thursday 9:30AM CrossFit class is an Open Gym format.  Warm up, strength and conditioning portions of workout will all be posted!
-Aimee's 10:30AM Spin is back on Tuesdays!  And, we have added a 8:45AM Spin Hybrid on Thursdays with Melissa.  This new class is on a trial basis, and it could evolve into using other equipment uses such as Krank and the Ergs.  It is a cardio portion coupled with low to no-impact strength exercises.  So long as people attend, the class will stay on the schedule!
WEEKEND INSTRUCTORS :
Friday PM – Brian
Sunday AM – Ed