KB form has been slipping recently!  When executing a KB overhead swing, the bell should trail your hands.  If the bell carries over past where your hands stop at the top of the swing, you risk getting hurt!  The momentum of the KB should only carry to the top of the swing and no further.  Practice good form at ALL TIMES; no exceptions!  If the weight you chose is getting too heavy, switch to a lighter one in order to maintain your form.  Just like going on your knees for push ups, it isn't cheating if it allows you to do the exercise correctly.
40/30/20 (scale reps available)
Pull ups
1-arm KB thrusters
Box Jumps
R1 - add Bicycle crunches
R2 - add Mountain climbers
R3 - add B&T
…I learned in Kindergarten.  Just a little reminder of the simple rules in life:
ALL I REALLY NEED TO KNOW about how to live and what to do
and how to be I learned in kindergarten. Wisdom was not
at the top of the graduate-school mountain, but there in the
sandpile at Sunday School. These are the things I learned:
Share everything.
Play fair.
Don't hit people.
Put things back where you found them.
Clean up your own mess.
Don't take things that aren't yours.
Say you're sorry when you hurt somebody.
Wash your hands before you eat.
Flush.
Warm cookies and cold milk are good for you.
Live a balanced life - learn some and think some
and draw and paint and sing and dance and play
and work every day some.
Take a nap every afternoon.
When you go out into the world, watch out for traffic,
hold hands, and stick together.
Be aware of wonder.
Remember the little seed in the styrofoam cup:
The roots go down and the plant goes up and nobody
really knows how or why, but we are all like that.
Goldfish and hamsters and white mice and even
the little seed in the Styrofoam cup - they all die.
So do we.
And then remember the Dick-and-Jane books
and the first word you learned - the biggest
word of all - LOOK.
Everything you need to know is in there somewhere.
The Golden Rule and love and basic sanitation.
Ecology and politics and equality and sane living.
Take any of those items and extrapolate it into
sophisticated adult terms and apply it to your
family life or your work or your government or
your world and it holds true and clear and firm.
Think what a better world it would be if
all - the whole world - had cookies and milk about
three o'clock every afternoon and then lay down with
our blankies for a nap. Or if all governments
had a basic policy to always put thing back where
they found them and to clean up their own mess.
And it is still true, no matter how old you
are - when you go out into the world, it is best
to hold hands and stick together.
© Robert Fulghum, 1990.
Found in Robert Fulghum, All I Really Need To Know I Learned In Kindergarten, Villard Books: New York, 1990, page 6-7.
Thank you to all who have served and made the ultimate sacrifice.  CFers started the morning with a great cadence run, including SSgt. Brian Flannery leading part of the cadence.  Then we did our own hero workout this morning to pay our respects on this Memorial Day.  Each section of today's workout represented those killed in action and included carrying the weight of their loss in some way: Weighted 150 or 200 m run while others did weighted lunge or quick step.  End activity was a 5-minute plank, and NO ONE dropped!!  Thank you all for coming out and sacrificing a little of yourself to pay homage to those we have lost.
Especially missing our own on this day: RIP Kyle Pagerly, US Army, SSgt. Sean M Flannery, US Army, Sgt. Tom Kaag, USMC, and Maj. Don Kaag, USMC.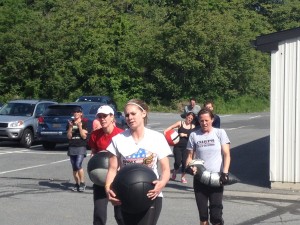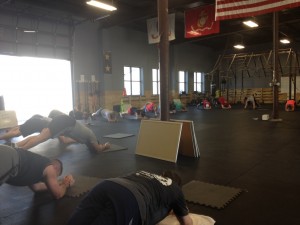 HUGE crowd for 8:30 AM - showing appreciation that class was NOT at 7 AM…
Three main events style: SS Chest Pass // Group Static Lunge // Double Unders
Wrap-up with Lead / Follow: Lead Hang Run / K2E / Combo Crunch while Follow Run Outside
Also a great turnout for the CF Open House - hopefully we'll be seeing a lot of newbies coming through the doors soon!
1. Saturday class this week is NORMAL TIME: 8:30-9:30 AM **(NOT 7 AM as previously stated)**
2. Open house this Saturday 8-noon.  Bring your friends! See this newsletter for more information
3. Monday - Memorial Day Schedule:
Cadence run at 8 AM, meeting at the Wyomissing pool.  Cadence run is an out and back approximately 3 miles average 9-10 minute mile pace. Starting as a group finishing as a group. The abilities of the group will determine the pace
All Abilities Class at CF at 9 AM. All other classes cancelled for holiday
4. Weekend instructors: FNL - Gretchen / Sunday 8 AM - Ed / Sunday 1 PM - Gretchen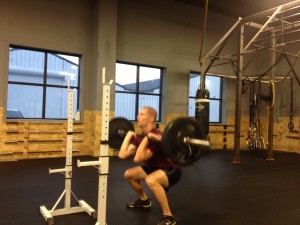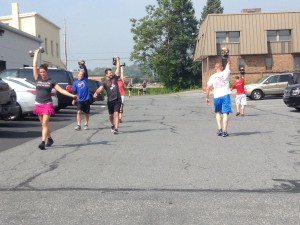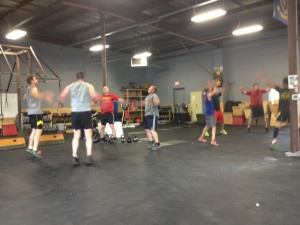 Incorporating rest days into your workout routine is as important as pushing yourself on the days you work out.  Exercise, especially what we do at CF, is very stressful on your body, and your body requires time to recover and rebuild.  Without rest, you might be overtraining and setting yourself up for a lengthy downtime when your body finally forces you to take a holiday.  The constant variation in CF workouts helps prevent overuse of any single muscle group (though sometimes it doesn't feel that way!).  Most CFers also cross train by running / biking / swimming / doing yard work - basically anything that keeps the body moving.  Find the work / recover / rest schedule that works for you in order to stay healthy and perform your best!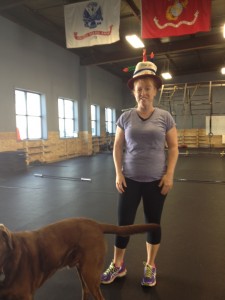 That 24″ box that seemed impossible a few months ago is now no big deal, and you're on to the 32″…  But maybe someone just coming through the door can hardly manage the 12″ box.  It's all about perspective - do what you can and push yourself a little more each day.  Set aside time before or after each workout to focus on the exercises you struggle with, and eventually they'll be easy-peasy!
CFers are setting records every day!  This week we hail several, including two young CFers: Jack Davis was part of the State Champion Wyomissing Tennis Team this weekend, and our other infamous Jack D helped Wyo place third at District 3-AA Track and Field Championships this weekend and will compete in the State track meet as part of the 4x800m relay team next week!  It's been inspiring watching these two young men grow up and surpass so many milestones and challenges in their paths. Great job, gentlemen!

Also this weekend was the 10th annual Got the Nerve? Triathlon in Mt Gretna, PA.  The race drew over 800 participants from around the country and the world.  Thank you to all who helped and volunteered your time to make the race a success - it couldn't be done without you!  Several CFers also participated in the race: Eric Schippers, Kevin Quinter, Pete Blanchet, Jordan Hottenstein, Larry and Sami Grybosky, and many more all came out and gave it their all on Saturday.  It was a great day all-around!

The mental toughness that CF instills in all of us lets us push harder than we thought possible.  Kudos to all of you for staying tough and digging deep, running one more lap or doing one more station when you thought there was nothing left in the tank.  These efforts carry over to many aspects of our everyday lives, whether it is carrying all of the groceries into the house in one trip (thank you, quick step), picking up our kids (thank you kettlebells) or dodging dodge balls (ok, bad example).  Keep up the good work!

'