can't get fooled again.
Toes to bar
In the Toes to bar, the athlete must go from a full hang to having the toes touch the pull-up bar. The arms and hips must be fully extended at the bottom and the the feet must be brought back to behind the bar, not out front. Both feet must touch the bar together at some point. At the top, the arms can be bent or straight. (CrossFit Games Standard)
The Fall Contest was posted this far out so you have time to practice CrossFit exercises, take the skill work seriously. Work on stuff a few minutes before or after class. Practice at home. Watch videos online. Ask people for tips. As Wicasa always says "educate yourself." Strive to be part of the CrossFit community, well-rounded athletes, the fittest people on the planet!
A bit toastier than expected.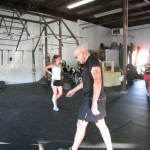 Anyway, Update:
1) LABOR DAY SPECIAL: Monday Sept 5
8AM Cadence Run (park Wyo Pool)
9AM CF Combined Class (gym)
(all other classes cnx)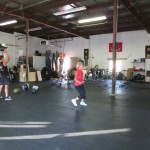 2 min. Drill
T2B, MB Thruster, Band Slides: 2min Crabwalk/Pike
Rope Heave, Plank Knee, Rev. Lunge: 2min Spin
ACP, Hip Ext, Pulse: 2min B&T Jump (or B&T)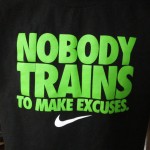 Of course not. We train for a healthy body and functional fitness. And, sure, we train so we can participate in goofy Sunday Specials and Incentives. It's time to put up…so Let's…get…it…on!

"The best day of your life is the one on which you decide your life is your own. No apologies or excuses. No one to lean on, rely on, or blame. The gift is yours - it is an amazing journey - and you alone are responsible for the quality of it. This is the day your life really begins." -B. Moawad

Check out the Sunday Special page for the Fall Contest (this event is a blend of a Sunday Special and CF Incentive). A weekend of evening WODs…Oct. 7, 8, 9…kind of CrossFit Games style. The WOD will be released only the night before. Be prepared for anything. Sign up on the whiteboard (1 slot each night). Each night there are 4 time heats. Each heat is 30 minutes long and can accomodate 8 people (based on equipment).

Anyone can sign up, however, you should have a working knowledge and familiarity with ANY and ALL of the following (but not limted to): a) the 9 foundational crossfit movements, b) hybrid moves like burpee and thruster, c) specialty moves like a KB swing and Double Under, d) bodyweight exercises like a pullup and dip. And, you ought to have that mad-dog, challenge-seeker, competitive mentality.

In line with the core of CrossFit programming, this will be a contest, a competition…HOWEVER, so that anyone across abilities is lured to participate, you can join either the Competition group or sign-up as Open/Fun. If you've been participating in the M & W CrossFit classes, then this is a great chance to challenge your skills and athleticism.

Be sure to consider participating. Remember the last Sign-Up Incentive (Survive the Scorcher)? 26 folks took that on. Get your name on the list early so you can get in the heat you want.

"Army Captain Dan Whitten, 28, of Grimes, IA, assigned to the 1st Battalion, 508th Parachute Infantry Regiment, 4th Brigade Combat Team, 82nd Airborne Division, based out of Fort Bragg, NC, died February 2, 2010, when enemy forces in Zabul, Afghanistan attacked his vehicle with an improvised explosive device. Whitten is survived by his wife, Starr Whitten, his mother, Jill Whitten, his father, Dan Whitten, and his sister, U.S. Army Captain Sarah Whitten."

Hero WOD:
5 rds: 22 Swings, 22 Box Jumps, 400m, 22 Burpees, 22 Wall Ball (15 reps scaled)

Who'da thought the end of the world would be…Obesity?

A flurry of athletic movements:
B&T3Hurdle, WallWalk, Sk8r, Ring Row, Ladder/Sprint, Double Jump, Hollow Rock, RvgPlank, MB Suicide
(end rd 1 sprints, rd 2 200m)

End: Why do they call it Suffocation?

At the top of the first minute do 10 KTE or T2B.
Then finish the minute with DB Thrusters.
At the top of the next minute do 10 KTE or T2B.
Then finish the minute with DB Thrusters.
At the top of the next minute do 10 KTE or T2B.
and so on and so on.
1st person to 60 Thrusters ends the game!

Have a great weekend…stay safe in the hurricane!

'