This coming weekend, Zach will be running the Blues Cruise 50k - quite an accomplishment!!  He has been training hard on the Blue Marsh trails and is looking forward to getting more CF time after the race.  As if that isn't enough, Zach is raising money for the IM ABLE Foundation through his first giving site as well and is almost 1/2 way to his $1000 goal.  If you'd like to donate, please visit Zach's site!
Good luck, Zach!!

CFers!  The IM ABLE Got the Nerve triathlon is coming up May 16th in the beautiful Mt Gretna, PA.  We are in need of motivated volunteers to help during the following days / times:
Truck loading Thursday May 14th, 6:30 PM (at CF)
Race set-up Friday May 15th, options morning into afternoon (at race site)
Race day May 16th, options all day (at race site)
Truck unloading May 17th, 10:30 AM (at CF)
If you're willing and able to help out during any of these times, please register on this website so we know we can count on you to be there.  Truck loading / unloading is not on the registration site, but please email if you can help out.  Thank you all!!
*There are opportunities for all ages to volunteer - this is a great option for teens who need community service hours, or little guys who like to hand out water (with parental supervision).  It's a fun and exciting day watching racers of all ages and abilities!
What do you know about IM ABLE?  Did you know we've given out 27 adaptive equipment grants in the past year?  Or that our CF trainer Brian also trains adaptive clients weekly, while also going to school full-time?  Check out our website and learn more today!

A few reminders for the second half of February:
Valentine's Day Couples Class - TOMORROW, February 13th @ 6pm!  (NO 5:30pm class - start time moved to 6 PM)
Share your love of CF with the love of your life (or at least someone you enjoy being around).  Members can bring their non-CFer significant other for only $10!!  If you're both members, just check in as normal and pair up for an awesome couples workout 🙂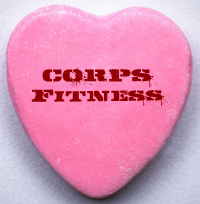 Lululemon Trunk Show 2/21 from 11-2 PM
A large portion of all sales benefit the IM ABLE Foundation
Thank-a-Cop Month - continues all month
ALL law enforcement will receive a 1 month unlimited pass to CF at no charge (valid Feb 1-28 only).  Simply show your badge to the CF front desk staff and receive your FREE month!

Schedule Changes:
Garage Strength will be closed 2/13
Garage Strength will be open 3-5 PM on 2/19, closing at 5 PM
Weekend Instructors:
Friday 6 PM Couples Class: Chris
Sunday 8 and 9:30: Gretchen

Thank you to all the CFers who helped out during yesterday's IM ABLE Duathlon and 5k!!  You all really are what makes it happen!  Also, congratulations to all the CFers who came out for their first 5k, PR, first duathlon, first time racing with your family, or smoking a random unplanned 5k at 8:15 AM while wearing cargo shorts and hiking shoes.  Just another example of how CFers never back down from a challenge!!
Results are linked from the IM ABLE page
Additionally, Tom Bell's (Natalie's husband) window to swim the English Channel opens tonight at 2:00 AM (9 PM EDT).  Stay tuned to Facebook or the web for updates!

Corps Fitness has always had the philosophy that whatever your issue you can look within to Improvise, Adapt and Overcome. Find a way to do things differently and move on with no excuses. We have had many people within our ranks that have demonstrated just that and they have inspired those around them to do even more. Wednesday 9:30am class had the pleasure of working out with a man who visited us from West Chester and participated in the workout and demonstrated that philosophy loud and clear!! Marine Corps Captain John O'Brien showed us how a CF class can be completed with only 1 arm and 1 leg! Thank you sir for joining us and for reaffirming and demonstrating what the Marine Corps instilled in you and Corps Fitness founder Chris Kaag, that there are NO EXCUSES for what you CAN achieve! Ooh Rah!!!!!
Excerpt from John's Bio
A person's character traits are the foundation for survival in today's fast changing world. Not only does your character help you succeed in the business world, but also it carries you through the tragedies and suffering we encounter personally. John O'Brien is a retired Captain from the USMC, and he knows how a strong character helped him to survive a horrific plane crash in 1993. These same character traits help John to embrace life and live it to the fullest.
While piloting the AV-8B Harrier jump-jet during a routine training mission landing on a road near Cherry Point, NC, John's airplane veered off the road and exploded upon impact. He was severely burned over 36% of his body, which ultimately led to the amputation of his left arm and left leg. John teaches how key character traits aided in his survival and recovery.
Personal integrity, trust, loyalty, honesty and self-confidence are just a few of the key character traits that sustained a positive mindset to enable John to recover from the devastating effects of losing two limbs and suffering through skin grafting surgeries. These same character traits are what drive John O'Brien