New FitU Instructor!
Hey all!  Most of you may have already read in your newsletters, but there's a new gal in town and her name is Stephanie Milch!  Steph has joined the training team at Fit U and will be regularly teaching the 5:15AM class on Fridays as well as the weekend rotation of classes.  Congratulations, Steph!!
MONDAY 3/3 Hero WOD for Tom Kaag
On Monday March 3rd, join Chris in honoring his pop with a Hero Workout.  March 4th will be the second anniversary of the passing of Chris' father, Tom Kaag, as a result of pancreatic cancer.  Tom, a second-generation Marine, was a huge motivator for Chris and was even the creator behind our name: Corps Fitness!  Again, the Hero workouts will be MARCH 3rd.  All classes will have the same workout throughout the day (5:30 AM, 9:30 AM, Noon, 5:30 PM).
Spin / Krank Sign-Ups
We're going high-tech to help make your visit to CF run more smoothly.  Starting March 1st, the only way to sign up for a CF Spin/Krank classes will be using the online Mind Body Connect app (no more paper sign-ups at the desk).  Download the app today to make your visit that much easier.
Boots and Utes!
Surely you've noticed the many new faces at CF who are participants in the third class of the Kyle Pagerly Call to Action Challenge!  CF is proud to host these men and women and provide the motivation to get themselves into better shape during a three-month time period (and hopefully longer!).  Part of the C2A requirements include working out in gear ("Boots and Utes") for one month of the challenge.  During the month of March, we welcome and encourage all CFers to get a taste of what our C2A participants experience by joining them in wearing non-typical workout gear to your workouts (think cargo pants, utility boots, etc)!  Give it a try for a just one class or for the entire month and gain even deeper appreciation for the sacrifices our local first responders make every day.
Weekend instructors:
FNL: Gretchen
Sunday 8 AM: Matt
Sunday 1 PM: Van

Between Corps Fitness (CF) and CrossFit (XF)?
There's only one Corps Fitness
Yes, we are a CrossFit affiliate (CrossFit Berks) and we enjoy seeing new or returning faces from traveling XFers.  But there's only one Corps Fitness, and that's just how we like it!
Regardless of the class you're attending, you're getting an entire hour of constant motion!  I've heard comments from people who say "I only come on xxx days because I like / don't like the xxx workouts."  Chime in: what do you see as the difference between Corps Fitness and CrossFit?  Is it a circuit or pods vs exercises listed on a board?   The mental aspect of not knowing what's next?  Working in teams vs a more 'at your own pace' format?
PS - I know most CFers aren't shy, but if you're more of an emailer vs comment poster, you can email a response using this link.  We appreciate your feedback and strive to make every workout better than the last at CF!!

Burpees:
Love 'em or hate 'em, the burpee remains a pinnacle of athletic achievement, nearly 75 years after its invention.
According to the Oxford dictionary, the burpee is defined as: "a physical exercise consisting of a squat thrust made from and ending in a standing position."  This sounds more like a CFer's Bend and Thrust, so when we do burpees, we're actually doing a modification of the original by adding a push-up in the middle and a jump at the end.  But don't think CF will change our definition any time soon!
The burpee was invented by Dr. Royal H Burpee, who according to his grandson "created the movement as the centerpiece of his PhD thesis in Applied Physiology from Columbia Teacher's College in 1939." Roy III also adds that "it's the quick positional shift required when going from a vertical stand, to a horizontal position, and back up to a stand that taxes the heart's ability to pump blood effectively to accommodate the working muscles." (1)  The 'burpee test,' as it was originally called, is a great measure of agility and coordination, and a quick test of overall fitness.  There are several variations, ranging from the burpees we know at CF (with a push-up and jump) to burpees with a pull-up / box jump / box jump over / back flip (coming soon?) / 1-foot burpees / burpees on a medicine ball… the list goes on and on.
What's your favorite burpee variation???
*Thank you to Eric Schippers for this topic!

Is it the mental toughness?  The pushing yourself beyond what you thought were your limits?  The teamwork and working together across all abilities and experience levels?  The self sacrifice for the greater good?
Yes.
It's all of that and more.  This isn't about you.  Corps Fitness isn't a place you just come to get a work out.  It's not a ho-hum globo gym where you pay $xx a month  and we don't care if you never come back.  This is a family, and just like any family, we love to greet our new members who are arriving all the time.  And just like a family, you're held accountable by the other members to hold up the morals and integrity of this "thing" that is so much bigger than any one individual.  If you're a veteran, take a newbie under your wing, teach them, and show them the ropes.  If you're a newbie,  pay close attention to the level of respect others show for CF and their fellow CFers.  It doesn't matter if you've been here 3 months or 3 years, if you are giving your all during every class and pushing yourself to help out your team mates, if you "buy in" to what CF is all about, you're helping make CF what it is.  And we thank you for that.
If you'd like to give a shout-out to a fellow CFer, send an email to Gretchen with their name and why you'd like to nominate them / how they demonstrate the CF spirit.  As nominations come in, we'll be periodically posting these shout-outs on the blog.  Be sure to check in to see who's recognized!!

Free Intro Class this Saturday at 9:45 AM!
**New!! Be sure to click the blog post title ("Updates" in this post) to see how it's now possible to 'Like' or 'Share' to Facebook directly from the post.  No more copying and pasting the web address!
Weekend instructors:
FNL - Gretchen
Sunday 8 AM - John
Sunday 1 PM - John

A little A&P review for CFers today!  Muscles are composed of bundles of fibers called myocytes.  These bundles are categorized into three separate types:
Type I fibers = slow twitch, use oxygen for energy (aerobic) and are responsible for providing contractions over a long period of time (think marathons)
Type IIA fibers = half way between Type I and Type IIB, equal parts aerobic and anaerobic
Type IIB fibers = fast twitch, anaerobic, used for quick energy and speed like sprinting or weight lifting
People are born with certain proportions of each type of fiber, which is different for each individual but averages about 50/50.  Naturally having more of one fiber type doesn't mean you're destined to be a sprinter or marathon runner, though.  Some research suggests that training can at least slightly alter your muscle fiber composition.
More than you ever wanted to know about fast twitch vs slow twitch muscle fibers can be found here, here and here.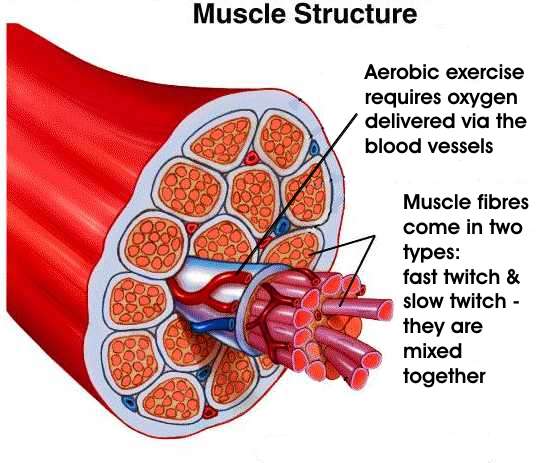 It probably won't surprise you that Americans actually consume more chocolate during the Halloween and Easter holiday than Valentine's day, but did you know that the US lags behind several other countries in terms of chocolate consumption per capita?  Read more fun facts about chocolate here.
"According to research from the Nielsen Company, Easter historically trumps Valentine's Day with 71 million pounds of chocolate candy purchased. Halloween trumps both of those holidays; more than 90 million pounds of chocolate candy are purchased for the spooky, treat-filled holiday." (MSN)
**Tonight's the night!  Join CFers for the kickoff workout of the "From Corps Fitness, with Love" KB-themed weekend.  Then come back tomorrow morning at 7 AM or 8:30 AM and again Sunday at 8 AM or 1 PM to finish it out.  See you there!**
'