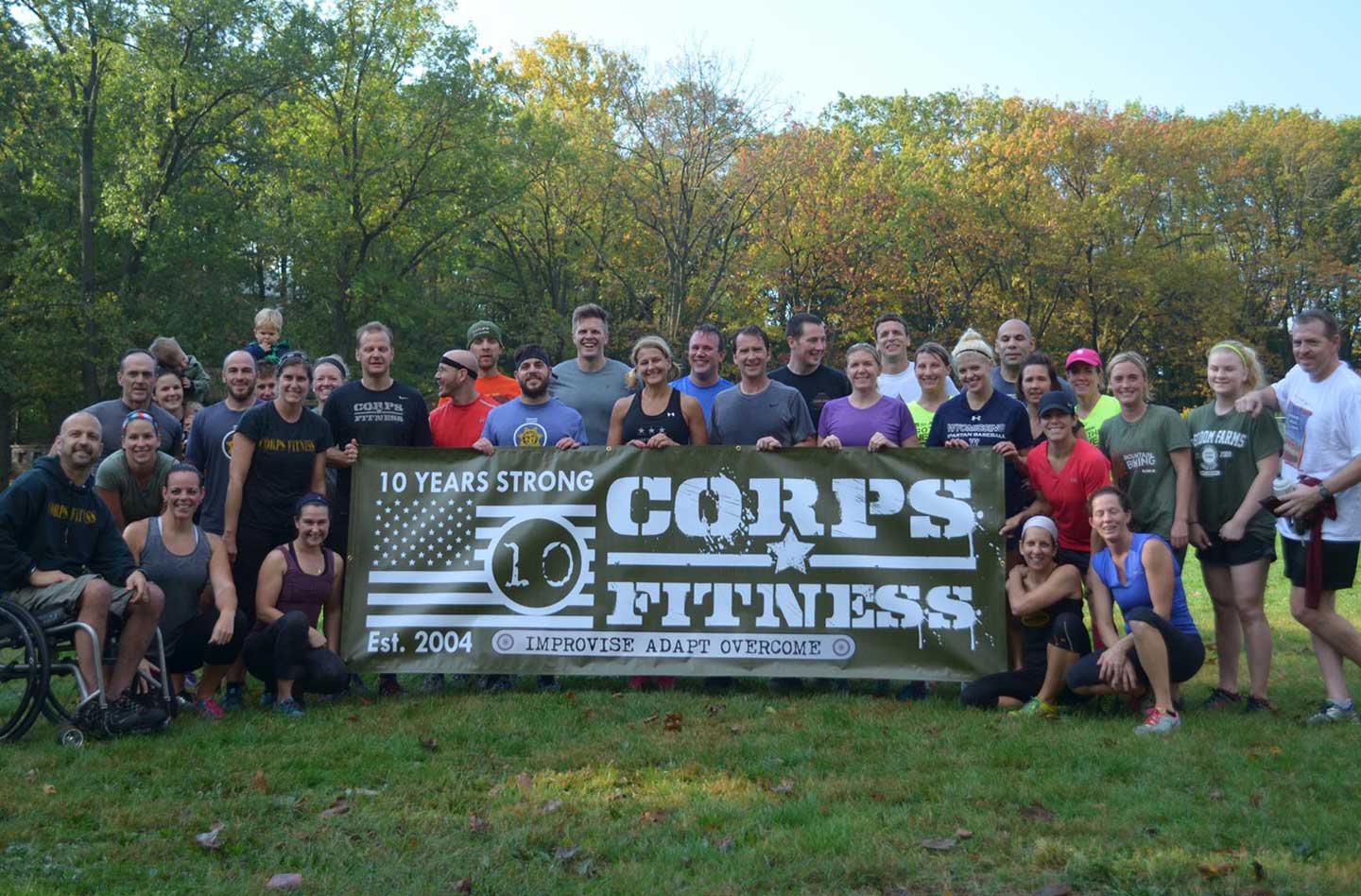 Corps Fitness is keeping up with the times!  Along with our new website, did you know we also have facebook, instagram, and twitter accounts?  We like everyone to stay in-the-know and be able to SEE everything we do!
And just because we don't brag about our accomplishments doesn't mean we don't have them:
CFers are known to be a humble breed, but we are also badasses!  Though we aren't a great fit for the often narcissistic culture that's pervasive today, WE ARE incredibly proud of everyone's accomplishments due to your hard work and perseverance inside the walls of Bldg 7 (and outside).  If you're so inclined when you see videos of people performing crazy moves like insane double rope climb MB tosses, or L-hold rope climbs or burpee back flips online, take a shot at it yourself*.  OR just generally post pics / videos of yourself being a CFer (some of you already do, which is pretty cool), reaching a personal goal, or doing something you once never though possible or that CF inspired you to do.  Tag #WeAreCorpsFitness, #CorpsFitness, #CorpsFitnessPA, #ILoveCorpsFitness, or any other fun hashtags giving props to Corps Fitness.  We'll do our best to pick up hashtags on the blog so we can give you a shout-out, and so the world can see what we're capable of!  …Because we're not big on bragging, but we KNOW our CFers are awesome and deserve recognition for what you all do every day!
*DON'T be like this.  And this should go without saying, but please don't damage yourself, others, or any equipment in your pursuits!

Corps Fitness prides itself on being a unique gym….you are not just a membership number, or an anonymous figure that punches in and punches out of the gym. Through Chris Kaag's leadership and promoting the philosophies that we have at Corps Fitness, Corps Fitness draws individuals who not only want a fantastic workout, but individuals who believe in being a part of something bigger. While it is the philosophies behind Corps Fitness that make CF what it is, it is also the PEOPLE that get it…..the PEOPLE who believe in CF that make CF the best place around. Emily McDonough is one of those people, and today, we spotlight her and give her props as one of those people who truly get the value of Corps Fitness. Read on…
BACKGROUND: Tim and I have been married for almost 4 years and just moved to the area in Dec. 2012. I'm originally from the Lehigh Valley and am blessed with 2 wonderful parents who've supported me in all my life endeavors, both personal and academic. My 2 sisters and brother mean the world to me, as do their children. I teach 7th grade English at Boyertown Junior High West. I have the best colleagues and students who make each day an adventure!
YOUR START AT CF: I was a Long Term Substitute at Wyomissing while looking for a contract job – at that point, I was still living in Allentown and commuting every day. I considered joining a gym here to get my sweat on after school and started googling places. Chris' "mug" popped up on the screen, and I was like, "Hm. I'll have to look into this." Long story short, that didn't happen until I actually moved here a few years later. I tried a free class with a friend of mine and thought, "Man, who in their right mind would willingly endure this torture every day?" A few months after that, our gym closed for renovations, and Tim and I jumped ship. We were nervous at first because we had never been part of a fitness community where people actually gave a hoot if you showed up or not. I think I really "got it" after participating in 8 grueling days of Summer Hero Week 2014. The support I received from new and seasoned members was truly inspiring. Honestly, joining CF was the best decision Tim and I ever made (besides getting married of course!). We've come to realize that CF isn't just a fitness community – it's a fitness family.
MEMORABLE/MEANINGFUL CF EXPERIENCES: This question is virtually impossible to answer because everything we do at CF is meaningful to me. From calling the cadence to assisting new members to volunteering at IM ABLE events, everything has its purpose. Something I'm most proud of is competing in last year's All Out in Berks with Maria Nawa. I was worried about embarrassing her, but we had a blast and created some awesome memories. The energy in Building 7 that day was off the charts due to every single athlete giving it 110%.
SUCCESS STORIES AT CF: I've been an athlete all my life. I played field hockey in HS and college. I took up running after that because it was something at which I was pretty decent. In doing so, I gained about 20 lbs. and was pretty depressed about it. Joining CF gave me the opportunity to challenge myself in a different way; I was able to lose the weight and the negative thoughts about myself. I'd say that's a success story! I don't think there was much that I couldn't do before joining CF, but I will say that EACH DAY pushes me to my limits. After the final round each class, I collapse and think, "What in the heck just happened?". But the feeling is so damn addicting that I can't wait to do it again.
FAVE/LEAST FAVE EXERCISE: Rope climbs became a fave of mine after last year's challenge. Oh and tire flips – I like them too! On the flip side of that, I despise polar bear crawl….with a passion. It's not a pretty sight.
WORDS/MOTTOS YOU LIVE BY: Since joining CF I really try to live by the "No Excuses" mentality. Also that very little (if anything) can be accomplished without perseverance and a positive mental attitude.
HOW DO YOU DESCRIBE CF TO NON-CFERS: Honestly, I can't even begin to describe it. One needs to experience it for him/herself to really understand what goes on inside Bldg. 7.
WHY CF?: It's my family now. You wouldn't abandon your family, would you? It's a place I feel at home with people who care about me, who acknowledge my successes, and who support me in my failures. I've made some amazing bonds with people I might never have encountered otherwise. CF has become a really important part of my life, not just a place to work out.
LAST WORDS: CF isn't about the individual. It's about something greater than "you". It's more than a workout or a WOD or whatever you choose to call it. It's more than PRs and reps and AMRAPs. It's about getting your ass kicked every day with some really cool people, no matter what the exercises are or who is leading the charge. It's about being part of a team atmosphere where we are all accountable for each other. Each day brings on a new challenge that we might not be ready for, but we should feel lucky to have the chance to face it together!
~ Maybe you know Emily, and maybe you haven't crossed paths with her at CF yet…..but if you haven't had the opportunity to work out alongside of her, when you do get the chance, it won't take long before you quickly realize that she is the real deal when it comes to epitomizing all that we uphold at Corps Fitness! Thanks for sharing Emily!!

As our Did You Know topic last week stated, Marine pride runs deep in the Corps Fitness gym. We ask you to take time to remember the 12 Marines killed when their CH-53E Super Stallion helicopters crashed off Oahu's North Shore on January 14th. After 5 full days of searching, crews found no signs of survivors and the search was called off January 19th.
We remember:
Major Shawn N. Campbell, College Station, TX
Capt. Brian T. Kennedy, Philadelphia, PA
Capt. Kevin T. Roche, St. Louis, MO
Capt. Steven R. Torbert, Florence, AL
Sgt. Dillon J. Semolina, Chaska, MN
Sgt. Adam C. Schoeller, Gardners, PA
Sgt. Jeffrey Sempler, Woodruff, SC
Sgt. William J. Turner, Florala, AL
Cpl. Matthew R. Drown, Spring, TX
Cpl. Thomas J. Jaradas, Fort Myers, FL
Cpl. Christopher J. Orlando, Hingham, MA
Lance Cpl. Ty L. Hart, Aumsville, OR

DID YOU KNOW…
In 2015, Corps Fitness established a Mentoring program. Most seasoned CFers can demonstrate on cue the differences between a push press, a thruster, a cluster and a man-maker. Or they could demonstrate the differences between a deadhang, a kipping, a butterfly, a banded or a jump pull-up. And then again, maybe some seasoned CFers cannot.
However, no doubt, we do HUNDREDS of different kinds of exercises (and spin-offs of them) at CF. And, we have a variety of formats. You never know what you are going to get when you walk in the doors at CF. You have to think on the fly and be all in, both physically and mentally, when you take a class.
So, enter the new person. For those coming to CF for the first time, it can be overwhelming. Hence, the mentor program. Sign up to have a mentor, and that person becomes your "go-to" person at CF. A mentor can do pre-class explanation and demonstration of exercises. They can give suggestions for scaled distances, scaled repetitions and scaled weights. And they definitely can hold you accountable to move with urgency and purpose in the midst of the workout. All good, right?
Right. But, truly, regardless if you are designated as a mentor….regardless if a new person comes in and hasn't elected to have a mentor….we are ALL still mentors anyway. Like Cody in the pic below helping a newcomer….and Karen, helping a few learn the kipping technique….We are all there to hold each other accountable for moving with urgency and purpose. We are all there to help correct form or set someone straight if they are doing an exercise wrong. We are all mentors (even to the seasoned CFer who still doesn't remember the difference between an ammo can heave and an ammo can press)…..We are Corps Fitness.

The Marine Corps family runs deep at Corps Fitness. You can even say that Corps Fitness represents the past, the present and the future of the Marine Corps. How so?
Corps Fitness is based on the experiences of founder, Marine Corps Sgt. Chris Kaag. His brother Eric was a Marine, as well as their father (who named Corps Fitness when Chris was starting out), their uncle and their grandfather. Philosophies, physical challenges and mental challenges Chris faced as a young Marine are instilled in everything we doat CF.
We are part of the present day Marine Corps with our very own Gunnery Sgt. Rac taking the lead in teaching classes. Gunnery Sgt. Rac also attributes his workouts at CF as a big reason he was able to achieve a perfect score in the Marine Combat Fitness Test. And, it is never a surprise to see any current Marine walk in the door to take a class for himself.
We are the future for Marines as well because we are designated as the Official Training Facility of Recruiting Substation Reading. We host groups of poolees, young men and women signed on to become a Marine and have not left for boot camp yet, for a CF style workout. Up until the time they leave for bootcamp, poolees are afforded the opportunity to get well-conditioned and prepared for the rigors of bootcamp. CFers are often called upon to assist in these large-group poolee workouts, and it is only appropriate that CFers step in to lead by example for these young, future Marines.
We model the philosophies of the Marine Corps, we work out alongside and are lead by current Marines, and we help prepare the future Marine Corps, because….. We Are Corps Fitness.

The 2nd Annual All Out In Berks (AOIB) Challenge is coming up February 20th, starting at 9 AM.  This is a 2-person team challenge intended to challenge your overall fitness by way of 4 challenges: Strength, CrossFit, Corps Fitness, and Endurance.  This challenge is open to all abilities – sign up here today!  Prices increase January 20th.
Weekend instructors
Friday 5:30 PM – John
Sunday 8:30 AM – John

Thank you to Melissa for putting together this amazing week and recap video!!
DID YOU KNOW……
Hero Week started in the Winter of 2007 as a way of honoring a few young men and women who hadn't made it back from fighting overseas. Over the years, each installment of HW has always paid tribute to soldiers and first responders who either lost their lives fighting for our freedom, or have had their lives severely changed because of doing so. This year we honored children who have learned to improvise and adapt to face the challenges they have either physically and/or medically.
However, no matter what the theme or who the honorees are, two ideals always resonate within Hero Week: Live your life for EVERY day, because you do not know what tomorrow will bring; and, appreciate all your abilities and capabilities because you CAN. We do Hero Week twice a year, but in truth, your every day should be like Hero Week. The values behind it are every day values, not just twice a year values.
Corps Fitness has long held a tradition of being more than just a fitness facility. There is always a bigger picture….always an awareness of all the people around us. We appreciate all that we "get to" do because….We Are Corps Fitness.


It's getting darker outside during the morning and evening classes, and we are often outside running or doing other exercises.  We also share the parking lot with these huge shiny things that have wheels and headlights and would definitely win in a head-to-head competition (a.k.a. CARS).  Please use some common sense during these times: wear bright / reflective colors (not all black), stay to the side of the driveway, use your eyes and ears to look and listen for cars starting and moving, get up and move out of the way if a car is heading towards you, warn you fellow CFers of approaching traffic, look before running across the driveway (running around corners or behind the bounce place building into the garage door).  Just because you see them doesn't mean they see you!  Let's keep everyone safe, please!

It's very normal to be mildly, moderately, or very sore with limited mobility after a workout like we did on Friday.  That means you pushed yourself beyond what you have before, and are establishing new comfort levels.  However, if you experience any symptoms of rhabdymyolysis (severe pain, dark coca-cola colored urine), please seek medical attention immediately!  This is no joke and can be treated if caught early.  It can be very dangerous if not deadly if not treated.