From the pages of "I'd never be able to handle your schedule!" comes another weekly update on the activities of Chris Kaag.  Doing more in one week than most do in a year!
Did you see this national article by Fox News – a huge shout out to all we're doing here in Berks County!!  Click the photo below to be linked to the article:
Other items on Chris's recent and upcoming agenda include:
Attending Berks Catholic's Career Day this Friday
Indoctrination of IM ABLE / Corps Fitness principles with Alvernia students at Hogan Learning Academy
Exploring collaboration with Hempfield Rec for Got the Nerve as well as Inclusive Fitness
Working with Alecia Pagerly Eberly to establish a partnership with Riverfront Federal Credit Union, who is supporting the Corps Fitness Badge 27 Program
Intro class Saturday March 25th, including IM ABLE partners Berks Oral Surgery Crew

Please remember to stop by the front desk and update your information.  And while you're at it, please take a minute to refresh your familiarity with our website and policies – we've spent a lot of time on our brand, and there's a TON of awesome information out there!  Read and be in the know!

All Out In Berks – Volunteers Needed
We're in need of volunteers for the All Out In Berks competition we're hosting on April 1st.  The event will run from about 8 AM – 1 PM, and will be a fun time encouraging some awesome athletes and seeing some incredible feats of athleticism!  A bunch of other local gyms are participating, so it'll be a great way to meet some others who share your passion for fitness.  If you're in, sign up at the front desk today!  If you have questions or would like to volunteer, email Melissa.  We have a few more team slots open, so spread the word and sign up today if you want a spot!
Landon Weaver Fundraiser

After the AOIB, grab a bite to eat and support a family in need.  A fundraiser for fallen PA State Trooper Landon Weaver will be held at Clinger's at the Airport on April 1.
April Challenge
Our April attendance challenge is gearing up!!  See the previous post for more details.  A lot of names are on the sign-up sheet already – be sure to add your name to the list before the challenge begins!
CrossFit Open
The CrossFit Open workouts are a great way to sharpen your skills at recognizing good and bad movements / reps.  One more workout remains in the Open, to be released Thursday evening at 8 PM.  If you've got a little time to spare after Friday PM class, Saturday 9:15, Sunday, or Monday's PM class, please stick around!
Nutrition Seminar
We're hosting a nutrition seminar with Weik Nutrition April 5th at 6:45 PM.  Pre-registration is required; at least 10 atttendees needed to hold the seminar.  See previous post for more detail.
In-game run with the Fightins!

Get a team together and run with Corps Fitness and the Reading Fightins during the game on April 15th.  More details in yesterday's post!
Got the Nerve Triathlon
A great race for beginners and seasoned athletes, Got the Nerve takes place May 20th this year in beautiful Mt Gretna, PA.  Not interested in racing?  Consider volunteering your time – locally in Wyomissing May 17th / 18th, or at the race site May 19th / 20th.  This is a great event for HS students to gain some community service hours, as well!  More info and links are available at gotthenerve.org
Free Intro and Ongoing Open Gym Times
The next FREE INTRO will be Saturday 3/25 at 9:15 AM with Chris
Open gym times are continuing thanks to our PSU student trainers!
We have added:
Mon-Fri 6:30am – 1pm and 6:30pm – 7:30pm
Sat 10:30 – 11:30am
Sunday 9:30 – 10:30am
Motivator of the Month!
Who motivates you?  It can be a trainer, staff member, or fellow class participant.  Ballots and the ammo can (where completed slips should be placed, are located in the Cafe area.  Fill one out to nominate a Motivator of the Month!  First drawing will be March 31st!
New: Membership Rate for College Students!
We understand full time college students are strapped for cash, so we're introducing a student rate for full time students (12+ credits per semester) to attend Corps Fitness for $70 / month (unlimited membership).  Must present a valid school ID when purchasing.

Starting a regular post to update CFers on the adventures of Chris Kaag!  A sort of "Where's Waldo" style post, updating everyone on the latest and greatest, and the inspiring persona who started CF out of the back of his truck in 2004.  Times have changed, locations have changed, and Corps Fitness has changed.  But one thing remains the same: Chris's tireless dedication to the community and the betterment of those around him.  Now if only there were a way to clone the awesomeness…
Our fearless leader is up to many things these days!  But don't worry; he's still keeping a close watch on all things CF, making sure our ship runs smoothly while entrusting a wider circle of very capable people – our awesome program coordinator, trainers, front desk staff, facilities and cleaning crew – to shoulder more responsibilities.
This week, Chris will be teaching Monday PM and then Gretchen will take on Wednesday PM while Chris attends a meeting with a local church that is organizing a 5k to benefit IM ABLE.  Stay tuned for details!
Not one to slow down, Chris has also been meeting with the Reading Fightin' Phils to organize several partnership events that will take place this spring / summer.  The first event is an in-game marathon / half marathon and 10k that will be held April 15th. (clink link or photo below for press release)  We hope to have a great representation of CFers out there!
So we're all in very capable hands!  But if you notice or see anything that isn't quite right, please let one of the trainers or email Melissa or Chris directly and in true CF fashion, we'll "rectify that shit" or "tighten it up" ASAP!

Congratulations to Emily McDonough on her successful completion of the CrossFit Level 1 Trainer seminar!  She passed the test and learned a lot!  (oh and G also successfully re-tested after initially becoming a Level 1 trainer in 2012)
Emily and I were so fortunate to be taught by some incredible CrossFit leaders, instructors, and athletes (all the same 5 people) last weekend.  We learned a LOT (did I say A LOT??) and we're anxious to bring it all to Corps Fitness!
The instructors really brought home the concept of supporting your fellow athletes.  Denise Thomas (trainer at CrossFit One / Reebok HQ) was adamant that NO ONE is finished until EVERYONE is finished.  She brought some humor to it, but really hit on the fact that this is a community.  Nobody puts their stuff away until everyone is done.  If there's one person still working, everybody damn well better be over near them making sure they push and get it done.  You don't have to be a cheerleader; but you DO have to be encouraging and RESPECTFUL of everybody's abilities and efforts.
Other (awesome) staff / trainers were Aimee Lyons (CrossFit King of Prussia), Sara Mills (CrossFit Reston / Fairfax), Dave Lipson (all-around goofy guy and established CrossFit athlete), and Joey Dill (CrossFit Hamilton).  Special shout out to Aimee and CrossFit King of Prussia for hosting!

A little food for thought from The Arnold today!  It's so funny to see how many gyms are jumping on the "What's your excuse?" bandwagon… Yeah, we've been living it since 2004 at Corps Fitness.  Back when there was no building 7, and Chris drove around in his truck and hoped 5 people would show up for class on any given day.  Back when there was no fancy equipment; just a few body bars and ammo cans, and good old body weight.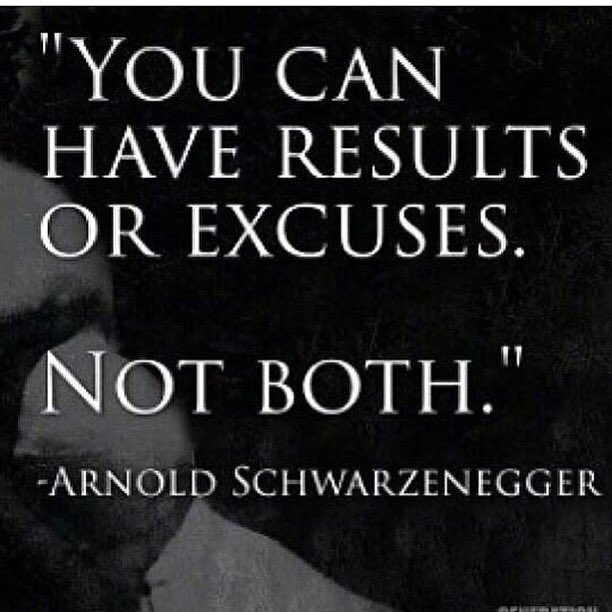 …And another one, just for fun.  And, oh, HIIT isn't new; it's a new name for an old format: no-frills, kick-ass circuit training.  Same as we've been doing since the Happy Hollow and Gring's Mill days!  So keep it up, CFers – you have always been and still are leading the way.  Stay different!

Here's an interesting article on why your calories may be inaccurate or misleading if you're using My Fitness Pal, which I know many of you are!  Hint: it really doesn't matter.  If you're hitting your macro goals you're doing just fine.

Are band pull ups an addiction?  Modifications are awesome, jut be sure you're testing the waters to move away from them every so often.  If you're not there yet, that's ok.  Keep improving on areas where you're less proficient, and you'll get there!
DISCLAIMER: The Overheard Press is an "Onion" type fitness blog / magazine / news outlet.  Take everything with a grain of salt, though there are snippets of truth.  Food for thought this Thursday!

NO DOUBT nutrition is uber-important in the grand scheme of things, but if you're never training that mid-section, you're never really gonna have abs.  We're not talking just superficial crunches here, but whole-body core strength and muscle recruitment (more on whole-body strength in another post).  Abs are muscles, too, and they need fuel and regular work to bring out their form.
"Low-Calorie diets make it nearly impossible to build any significant muscle and ultimately leave you spinning your wheels.  People who subscribe to these diets also experience lower energy, poor sleep, decreased performance, and potentially a bad relationship with food.  Not a great formula for a strong-looking core."
-M. Millner
"While dieting and eating correctly is an absolutely crucial part of the six pack process, it may not be as important as you once thought.
Abs are not made by dieting, they are REVEALED by dieting.
And if you don't have the proper tools in place (i.e. well developed ab muscles), then all the dieting in the world won't give you a nice pair of abs."
– Fitmole.org
Abs Are NOT Made In The Kitchen: The Truth About How To Get Ripped Abs
What are your thoughts?

CF is all about forming strong bodies and strong, lasting relationships.  And unfortunately sometimes that means you have to say "see you later" to some great friends and even better people.  If you're a regular 5:30 PM CFer, you recognize Sona and George, who have been in the US from their home country of the Czech Republic for about 18 months.  Well, unfortunately (for us) they're heading back to Czech very soon.  But not before we give them a proper CF send-off with a class followed by an informal party after the 5:30 PM class on Monday 2/20 (which also, coincidentally, is Sona's birthday!).  We'll share some food, drinks, and fun times once more and send them off with a fond farewell!  If you don't know them well, but would like to come Monday night, the more the merrier!  In standard CF fashion, ALL are welcome – no special invitation required!  We'll also post a card at the front desk if you'd like to write a few words for them.
'