From the pages of "I'd never be able to handle your schedule!" comes another weekly update on the activities of Chris Kaag.  Doing more in one week than most do in a year!
Did you see this national article by Fox News – a huge shout out to all we're doing here in Berks County!!  Click the photo below to be linked to the article:
Other items on Chris's recent and upcoming agenda include:
Attending Berks Catholic's Career Day this Friday
Indoctrination of IM ABLE / Corps Fitness principles with Alvernia students at Hogan Learning Academy
Exploring collaboration with Hempfield Rec for Got the Nerve as well as Inclusive Fitness
Working with Alecia Pagerly Eberly to establish a partnership with Riverfront Federal Credit Union, who is supporting the Corps Fitness Badge 27 Program
Intro class Saturday March 25th, including IM ABLE partners Berks Oral Surgery Crew

A few updates on updating your membership info and a welcome back to Badge 27 members!
General Membership Updates
It's that time of year again when we make sure we have your most current contact information and also get a beauty shot for your membership records (if we don't currently have one)!  Please take a moment at the front desk to fill out an updated form when you are checking in or before you head out.
Lastly, be on notice that front desk staff may call you out if you need a photo (i.e. your beautiful face doesn't show up on the check-in screen when you scan you tag).  Smile big!
Also, did you know you can leave a credit card on file with us to eliminate the hassle of running to your car or having to "check back" when you have it?  You can use the CC for all membership updates, apparel and other purchases.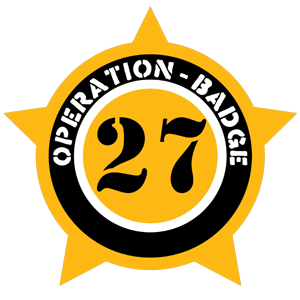 Operation Badge 27

Key program: If you are a current member or were a previous member of the

Badge 27 program

and are interested in coming back under the new program offerings, please email

Sandy

to sign up for a key and restart your membership.

'