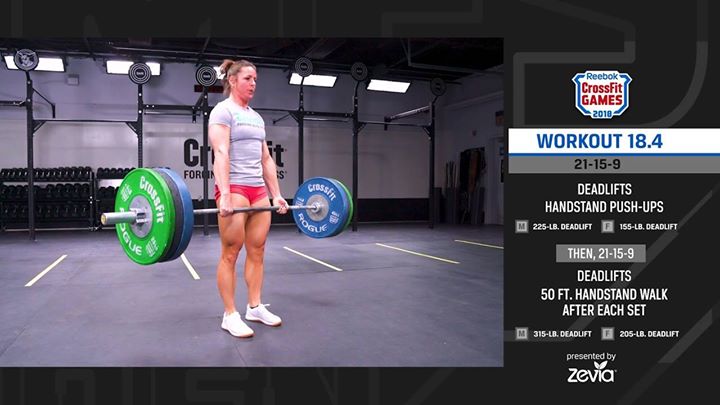 And 18.4 is out! 21-15-9 Deadlifts, Handstand Push-ups for Round 1. 21-15-9 Heavier Deadlifts, 50 foot Handstand Walk after each set. #theopen #18point4 #crossfitberks
18.4 has been announced. Review the description and standards at Games.CrossFit.com before attempting.
Details 👉bit.ly/CFG-18point4-details



Week 4 – 18.4 coming up, announced by CrossFit tonight at 8PM. What do they have in store for us this week?? We hope to see you Saturday to feel the amazing energy of athletes pushing their limits and being cheered on by everyone to do their best! #crossfitberks #crossfit #theopen #18point4 #motivation #nolimits #noexcuses CrossFit Berks is pleased to be hosting CrossFit – The Open. A 5 week event run by CrossFit, giving athletes from around the world a chance to compete and earn the right to qualify for the CrossFit Games. See CrossFit.com for complete event details.
•CrossFit Berks will use the Saturday 9:15AM class as the time dedicated for The Open workouts, which are announced by CrossFit on Thursday night at 8PM.
•CrossFit Berks programming will be solely for The Open judging and performance.
•Athletes will work in an "I go/you go" format, where one person will be responsible for counting reps/keeping time for partner working.
•Anyone who can not make the Saturday time slot will be responsible for securing a judge during an Open gym time. Workout must be completed and submitted online by 8PM Monday night by the affiliate manager. Contact CrossFit Berks for help.
•Judges do NOT need to be a "certified judge" unless the athlete is expecting to make it to the regional competition.
•Members who do not wish to be judged may still come to work out!
•We will have a special punch card available specifically for The Open workouts only. 5 workouts for $50.

Fitness





We have got 2 sets of Rings for Ring Muscle Ups. We already have 3 athletes who have done the workout on their own with 3 more coming in today during the Open Gym time at 10:30am. We'll still dedicate our 9:15am class tomorrow morning to the Open workout, but if you're doing Rx, we'll only be able to go 2 at a time. I'll (Joe) run heats as long as people want to wait. Scaled will go much quicker as we won't have the ring limit. We have 8-35's and 8-20's meaning we should get through all of those athletes within 3 heats at the most. First heat will be off by 9:30! See you tomorrow! #CorpsFitnessCrossFitBerks #theOpen #CrossFit #18point3



Week 3 of the open is upon us! 18.3 is released and includes Double-Unders, OH Squats, Muscle-ups and DB Snatches for Rx. Our Saturday class has been a blast with 20-25 people doing the workout, judging each other and most of all, cheering each other on! Come out and join us even if you haven't done the first 2 weeks! We'll keep an eye on how many people come in to workout and divide up into (probably) 3 groups again. See Joe at the front desk to sign in and get your wave assignment. Pretzels and bananas will be available for athletes afterwards again! #crossfitberks #theopen #18point3
Edit – Ring Muscle Ups will have us limited on the number of Rx athletes we'll be able to handle at a time. Scaled will be no problem as we have PLENTY of pull-up stations.


Come join us for our Free Intro Class – tonight at 6:45pm. Upon completion, get 2 free weeks to try out all our classes! Bring your awesome attitude and leave your excuses at home! #CFCFB #noexcuses #newstart #newyou




So this is all Ryan's fault. He started doing clap pushups in the 8:30 Corps Fitness/CrossFit hybrid. Then John jumped in with one arm pushups. Then Joe knocked out some plyometric pushups. You better be having fun folks or its not worth doing! #corpsfitnesscrossfitberks #1uptime #funtimeMade with PicPlayPost