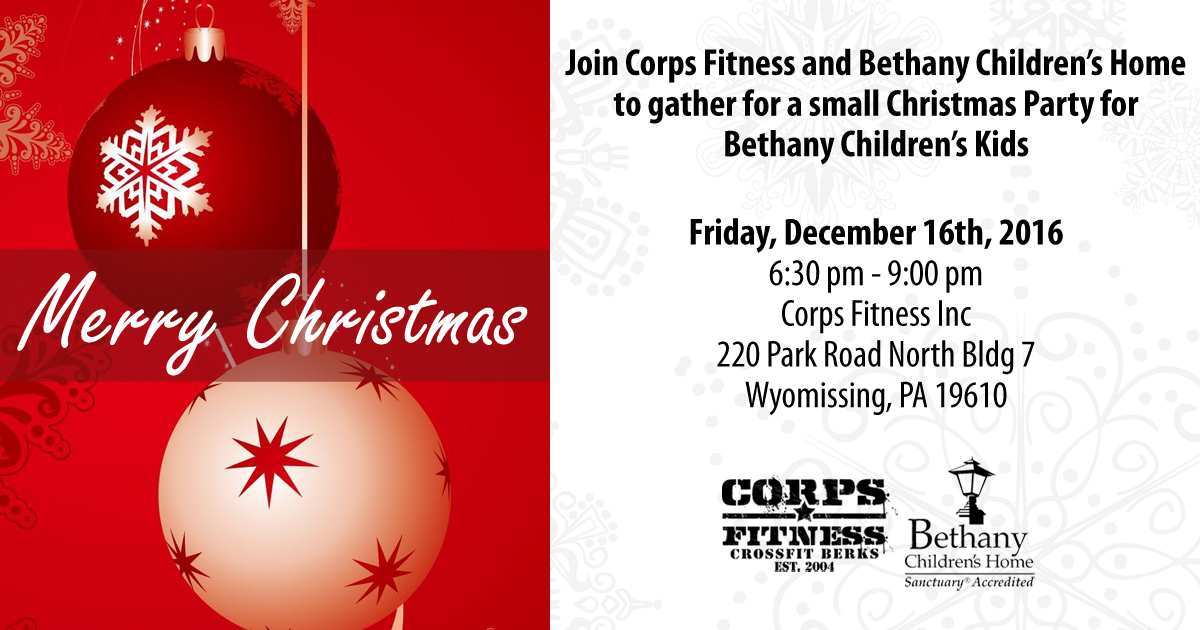 Our friends and teens from Bethany's Children's Home will be coming to celebrate the holidays with us on Dec. 16th, and we'd love to have a big group of CFers there to help spread some holiday cheer to them.  There are still a few Angels hanging on our tree by the front desk.  On these Angels, are a name, age, and a few ideas for perfect gifts for these young guys and girls.  Wrapped presents with Angel affixed to package should be returned to CF Front Desk by 12/12/16.  If you are unavailable to attend the party that evening, you can still choose an Angel and give a gift that we are sure will be much appreciated!
And, if you ARE available to party with us on 12/16, would you consider bringing a dish to share?  The request list is as follows:
Entree: BBQ, Meatballs, Mac n Cheese
Drinks: Cider, Water, lemonade, * non alcoholic Egg Nog
Desserts: Cookies, Brownies, Cupcakes
Sides: Pasta Salad, Macaroni Salad, rolls/buns
If you are planning to bring any of the above items, please email either [email protected] or [email protected] and indicate what you are planning to bring.
We know this is a busy time of the year for everybody, and we appreciate your help in making this a nice evening for our Bethany Children's Home guests.
APPAREL + SPEED ROPE ORDERS
Tied into ladies' and guys' nights - we're placing an order for several apparel items and speed jump ropes on Tuesday 11/15 so be sure to check out the order sheets at the front desk before then!
**Here's your chance to get your OWN speed rope so you don't have to untangle your favorite one every time we need them!**  There is a sample rope in the Cafe area if you want to check it out!  Several colors are available - check out the order form for handle and storage bag color options.
NEW OFFERINGS
- Remember Tuesday/Thursday 9:30AM class is now an Open Gym format.  Warm up, strength and conditioning portions of workout will all be posted!
- Aimee's  Spin is back on Tuesdays, and we are adjusting the time to 9:30AM! CrossFit Open Gym and Spin will be run at the same time!
- We have added a 8:45AM Spin Hybrid on Thursdays with Melissa.  This new class is on a trial basis, and it could evolve into using other equipment uses such as Krank and the Ergs.  It is a cardio portion coupled with low to no-impact strength exercises.  So long as people attend, the class will stay on the schedule!
CHALLENGES / SPECIAL EVENTS

-
Guys' Night
! THIS FRIDAY is Guys' Night at Corps Fitness (No girls allowed!).  Same as ladies night…..but with whiskey and beer + a short workout and skills work!  
6:30PM
 - 9 PM
-
Lululemon Trunk Show
Sunday 11/13 from 9:30 - noon.  Get an early start on your holiday shopping!  A portion of the proceeds go to the IM ABLE Foundation.  This was a hit last year - spread the word!!
-
Thanksgiving
Morning we'll be holding a Cadence Run (meeting at Wyo Swimming Pool parking lot) at 8 AM followed by ONE class at 9 AM.  Only 2 weeks away - yikes!!
LOYALTY!
- A reminder to check out the CF Loyalty Program and Incentives we announced April 1st. You can also earn points via membership and merchandise purchases!  Check out the link for full details, and start earning today!  For newbies looking to take advantage of the incentives, remember you must attend an intro class first.  After that, you're be eligible for 2 weeks of free membership and then an additional month at $70.
FREE INTRO CLASSES
The next Free Intro class will be Saturday, November 12th at 9:30 AM.  Stay tuned to the blog and website for any interim updates.
Following Free Intro will be Saturday, Nov 26th at 9:30 - work the turkey off!
WEEKEND INSTRUCTORS
Friday PM - Emily (ALL welcome for class, guys night at 6:30)
Sunday - Gretchen, then stick around for the Lululemon Trunk Show!!
Stressful times call for extra workouts!  Tune out the outside world for an hour and get your sweat on!


Image credit: Instagram

I'm so proud of our IM ABLE Foundation team and honored they took on the challenge of the NYC Marathon to support IM ABLE's mission of getting as many people MOVING as possible! Despite some challenges, everyone maintained the Can-Do attitude and completed the goal they set out to accomplish. So great to be in the middle of the energy of the day while tracking and supporting all of our athletes! Congratulations Zach, Brett, Devann, Karen, Sam and Cathy (not pictured)!!!
-Chris

REMINDER - Ladies' Night!
- Ladies' Night is TOMORROW, November 4th, at 6:30PM.  5:30 class will be open to all, then 6:30 time slot is ladies only!  The event will start with a modified Corps Fitness-style class with focus on time for skill work thrown in.  Wine / drinks will be provided, and all participants are asked to bring a snack to share.  Mark your calendars for a fun (but functional) night!


NEW(ish) OFFERINGS
- Remember Tuesday/Thursday 9:30AM class is now an Open Gym format.  Warm up, strength and conditioning portions of workout will all be posted!
- Aimee's  Spin is back on Tuesdays, and we are adjusting the time to 9:30AM! CrossFit Open Gym and Spin will be run at the same time!
- We have added a 8:45AM Spin Hybrid on Thursdays with Melissa.  This new class is on a trial basis, and it could evolve into using other equipment uses such as Krank and the Ergs.  It is a cardio portion coupled with low to no-impact strength exercises.  So long as people attend, the class will stay on the schedule!

CHALLENGES / SPECIAL EVENTS
- Guys' Night! SAVE THE DATE:  Friday, November 11th is Guys' Night at Corps Fitness (No girls allowed!).  Same as ladies night…..but with whiskey and beer!  6:30PM - ?

REMINDER - SPECIAL RATES EXPIRE SOON!
- Know any teachers or nurses who want to join the CF family?  Check out the top of CF's fees page for more information!  Special rates expire SATURDAY November 5th!
- A reminder to check out the CF Loyalty Program and Incentives we announced April 1st. You can also earn points via membership and merchandise purchases!  Check out the link for full details, and start earning today!  For newbies looking to take advantage of the incentives, remember you must attend an intro class first.  After that, you're be eligible for 2 weeks of free membership and then an additional month at $70.

FREE INTRO CLASSES
The next Free Intro class will be Saturday, November 5th at 9:45 AM.

WEEKEND INSTRUCTORS
Friday PM - Gretchen
Sunday - Emily

'