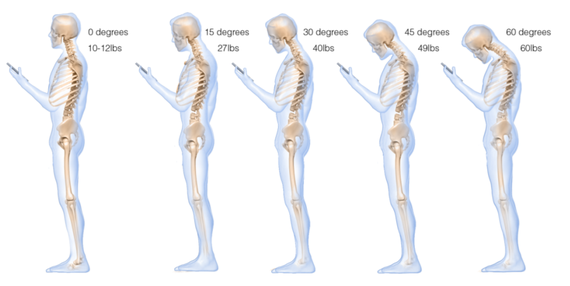 …or facebooking, or web surfing, or in general bad posturing.  Would you want an 8-year-old hanging from your head all day (assuming that's not reality for you right now)?  This applies to more than just texting.  Think about how many times trainers remind you to "keep your head in a neutral position" and not to strain your neck (meaning put it in excessive flexion or extension) during push ups, dead lifts, etc.  It's just plain bad for you!
Here's the full study, for you studious types…

Tuesday 11/25, Stay and Play at 9:30am
.  Cost is $5.00/per child.
Thanksgiving Day-11/27-
8am Cadence Run starting at the Wyo pool at the corner of Old Mill Rd and Evans Ave
9am All Abilities class (only class that day)
CF will be closed the rest of the day
- No Garage Strength
- No CF Baseball Academy
PLUS: 3:00pm-Core Kids Yoga Class ($20.00/per child).  Sign up on the sheet and / or request more information at the front desk!
Saturday-11/29
Stay and Play for kids 12 and Under at 8:30 class time (cost is $5 per child).  Organized play for the little ones, and organized CF-style class for the older kids.  Parents are welcome to participate or drop off the kiddos and attend the CF class.
- 9:45am FREE CrossFit Intro Class with Hector.  Bring your friends who have been asking about CrossFit but haven't joined in yet!
We are adding two more Spin Classes
Monday
5:30pm with Madeline Bieber will continue
Wed 12/3 - 
9:30am Spin class with Aimee Hafer begins
Thurs 12/4 - 
5:30pm Spin class with Jen Quick begins
Saturday 12/13 - 
5:30pm til ? - CF's 10 year Anniversary Pot Luck Dinner.  Bring a dish to share (we'll provide some food and drinks).  Sign up sheet is at the front desk!

This Friday, all class times will be holding the Hero WOD for Sean Flannery.
**5:15 AM class start time will be moved to 5:30 AM for this day only.**
Sean was KIA on 11/22/2010.  Help CF honor Sean and his family in remembering his sacrifice 4 years ago.  Brian, our dedicated CF trainer and Sean's brother, will be attending the 5:30 PM class time and giving everyone the extra push to suffer through the workout.
More information on Sean from his page on the Fallen Heroes Project website:
Army Staff Sergeant Sean M. Flannery died November 22, 2010 serving during Operation Enduring Freedom.  He was assigned to 2nd Battalion, 502nd Infantry Regiment, 2nd Brigade Combat Team, 101st Airborne Division (Air Assault), Fort Campbell, Kentucky. He died in Ghotamudkha, Kandahar province, Afghanistan, of wounds suffered when insurgents attacked his unit with an improvised explosive device. Also killed was Army Cpl. William K. Middleton. , was killed by a roadside bomb while in a vehicle on patrol Monday in. Sean Flannery was a twenty-nine year old resident from Wyomissing, Pennsylvania
He was planning to come home for Christmas.  He also was planning to marry Chrissy E. Martin of Raleigh, North Carolina.  His mother was very excited because she liked his girlfriend.
Sean Flannery graduated from Wyomissing High School in 1999. He graduated from Shippensburg University in 2003 with a major in business.  He then enlisted in the Army, following in the footsteps of his father, who died in April 2003.  Sean's father had served in the 82nd Airborne during Vietnam, and Sean had recently transferred to the 101stAirborne Division from the 82d Airborne.
Sean was a quiet and wonderful young man who had so much to offer. He was the oldest of three sons.  Sean's brother Brian is in the 82nd Airborne, and his other brother, Devin, works in the financial industry.  Sean's family continues to receive support from the legal profession in the Berks County area where Sean, his father and family had developed close ties and friendships through soccer and community activity.
Because we're here; he's not: **Fallen, never forgotten**


Happy Friday, CFers!
***Reminder!  This Sunday begins the cancellation of the 1:00 class, and the beginning of 8 and 9:30 AM classes.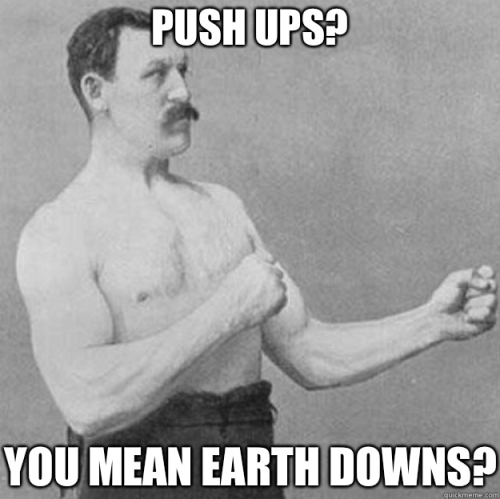 Weekend instructors:
FNL: John
Saturday 7 and 8:30: Van
Sunday 8 and 9:30: John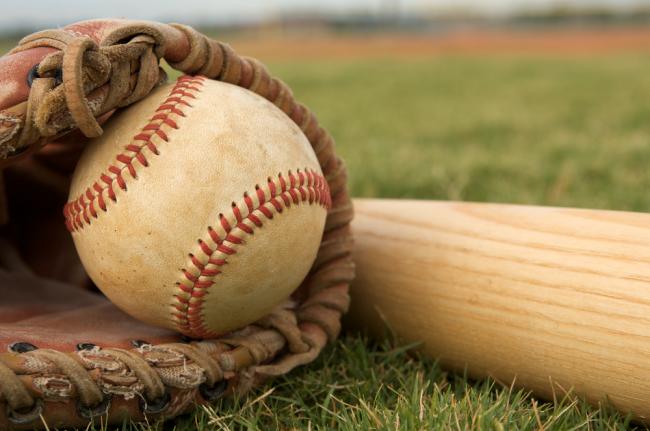 Coach Zach will be hosting a FREE baseball clinic at Corps Fitness,220 North Park Rd, Wyomissing
When: Saturday : November 15 @ 11am-1230pm
Cost: Free
Hosted by: Zach Milch: Head Baseball Coach Wyomissing Area High School/ Wyomissing American Legion
Ages: 5-13
Wyomissing High School players as well Wyomissing Legion players will be serving as instructors with me. All players will get instruction on hitting/fielding and get to do agility drills and play some friendly competitions.
Any player interested in attending please email Zach your name and age so we can plan accordingly

Our friend Kyle Pagerly tragically lost his life in the line of duty on June 29, 2011.  Today would have been Kyle's 32nd birthday.  Happy birthday, Kyle!
"So live your life that the fear of death can never enter your heart. Seek to make your life long and its purpose in the service of your people. Prepare a noble death song for the day when you go over the Great Divide. When it comes your time to die, be not like those whose hearts are filled with the fear of death, so that when their time comes they weep and pray for a little more time to live their likes over again in a different way. Sing your death song and die like a hero going home."
-Chief Tecumseh
Here's a link to a photo and video gallery of Kyle's CF moments.  Please take a moment today to think about Kyle's family, widow Alecia and daughter Savannah, who he was so excited to know but tragically never got to meet.

We all love our CF black and dark-colored gear, but with the days getting shorter, let's remember to break out that bright and reflective gear that we love to wear all winter!  We run outside year-round, and whether you're on the road or in our parking lot, please remember to watch for cars and make sure you're seen!

Also, snow and ice may be just around the corner (haha - get it?).  When bad weather hits, stay tuned to the blog and Corps Fitness Facebook page for weather-related schedule changes.  And make sure you're prepared!  Get your gear, from head to toe, ready to hit the road: non-slip sneaks and extra care both inside and outside are a must!!

'