A highly emotional workout as we dedicate our smokehouse to Kyle Pagerly, now named 'PAGS House'. This dedication took place on our 7th and final day of Hero Week. Pags was also the day's workout honoree. CFers and guests all got to be part of this milestone as well as learning about Pags and how we can honor his legacy while we are here! Participants gave everything they had because they GET TO! Fallen, but Never Forgotten!
All of our heroes throughout hero week gave their lives so we could live on – we're here, they're not. We could at least suffer for an hour at a time in their honor.
Thank you to all who came out and were part of this special day! Thank you to Erin Johnson for capturing us 'getting some' for Kyle!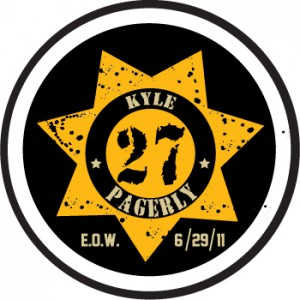 Honoring our very own fallen CFer, Kyle Pagerly, tomorrow:
Smokehouse dedication / Bio reading 9 AM
Class begins immediately after dedication
Spin / krank class also at 9 AM
Class ends around 10 AM
Dundore / Heister will be on site with delicious, fresh, local, clean food as well as their new bad-ass grill!  Plan to hang around for at least an hour or two socializing, having some food and beers!
Bring cash!  Food will be available to anyone in attendance - no set prices, but donations requested.  All $$ raised will be donated directly to the Kyle Pagerly Memorial Fund in order to keep programs like CF's Badge 27 running, providing affordable fitness opportunities to our local first responders.

For newbie CFers, here's a little background on Hero Week:
It started in winter 2007 when a group of about 7 CFers decided to honor a few young men and women who hadn't made it back from fighting for our country overseas.  Murph was one, and all told the first time around we honored 7 men and women who we never met but were eternally grateful for their sacrifices.  They gave their lives so we could live on - we're here, they're not.  We could at least suffer for an hour at a time in their honor.
So PLEASE, honor the men and women by giving everything you have every day this week.  Yes, you're sore.  Yes, it's a great workout.  But that's not all.  You GET TO do this workout because you're here.  Think about that for a minute.  Think about how quickly everything can change.  All it takes is one phone call or a knock at the door to turn your world upside down, and the loved ones of our honorees have been through exactly that.  Let's make sure we remember the reason we're here, especially this week. and do everything in our power to send the message that our honorees are Fallen, but Never Forgotten!

Omaha police officer Kerrie Orozco was one day away from going on maternity leave to care for the daughter she had delivered prematurely three months earlier when she answered a call to help a fellow officer.  Unfortunately, Detective Orozco was shot and killed as she and other members of the Metro Area Fugitive Task Force attempted to serve a warrant on a man wanted for a shooting in September 2014.
The subject opened fire on the officers as they approached a home near the intersection of Read Street and Martin Avenue. Members of the task force returned fire, fatally wounding the man.
Detective Orozco was transported to Creighton University Medical Center where she succumbed to her wounds.
Detective Orozco had served with the Omaha Police Department for seven years. She is survived by her husband, newborn daughter, and two stepchildren.
Workout:
"Dedication"
Corps Fitness style circuit with a little something special mixed in

Police Officer Brian Moore succumbed to a gunshot wound sustained two days earlier when he attempted to question a suspicious person in Queens.
Officer Moore and his partner were assigned to a plainclothes Anti-Crime Unit and on patrol in an unmarked car when they observed a male walking on a sidewalk and adjusting an object in his waistband. The officers pulled alongside the subject and asked him what he was carrying. The subject responded by pulling out a handgun and opening fire into the vehicle, striking Officer Moore in the face.
Officer Moore was transported to a Jamaica Hospital where he remained unconscious until passing away two days later. The subject was identified by several witnesses and was arrested at his home shortly afterwards. He was subsequently charged with murder, attempted murder, and 10 other charges.
Police Officer Moore had served with the New York City Police Department for 5 years and was assigned to the 105th Precinct Anti-Crime Unit. At his funeral Officer Moore was posthumously promoted to Detective by Police Commissioner William Bratton.
Workout:
1 mile partner hill run w/bar
15 burpee / c2b pullups
Sams drag / Bldg 7 sprint
24 tire flips or 100 double unders
12 burpee / c2b pullups
Sams drag / Bldg 7 sprint
24 tire flips or 100 double unders
9 burpee / c2b pullups
1 mile partner hill run w/bar

Police Officers Alyn Beck and Igor Soldo were shot and killed from ambush while eating lunch at a pizza restaurant in the 300 block of North Nellis Boulevard.
Two subjects, a male and a female, approached them at their table and shot them execution style without warning. The subjects then stole both officers' weapons and ammunition and ran to a nearby Walmart, where they shot and killed a civilian.
Responding officers followed the two into the Walmart and exchanged gunfire with them. The male subject was killed by rifle fire from a responding officer and the female then committed suicide.
Officer Beck had served with the Las Vegas Metropolitan Police Department for 14 years.  Officer Soldo had served with the Las Vegas Metropolitan Police Department for eight years.
Workout:
"Chaos"
Triathlon warmup
4 boards, 3 exercises each, buy in on each board
Round 2 = lead / follow, overall lead is 100′ heavy waiter's walk

Police Officer Robert Wilson was shot and killed when he and his partner interrupted a robbery at a video game store at 2101 West Lehigh Avenue at approximately 4:45 pm.
The officers were conducting a security check of the businesses in the strip mall and had parked in front of the store. Officer Wilson went into the store to conduct the security check and to buy a video game for one of his sons. While he was inside two brothers entered the store and announced a robbery, not noticing Officer Wilson's presence or the patrol car parked out front.
Officer Wilson immediately announced himself. He exchanged shots with the two brothers as he drew fire away from the customers and employees. He was struck three times during the shootout in which over 50 shots were fired. The two men then exited the store where they were engaged in a shootout with Officer Wilson's partner, who had remained in the patrol car. One of the subjects was wounded during the second shootout.
Both men were arrested and charged with Officer Wilson's murder. One of the brothers was on parole for robbery at the time and both had extensive criminal histories.
Officer Wilson had served with the Philadelphia Police Department for eight years. He is survived by his wife and two young sons.
Workout:
Fight gone bad style, 3 rounds, 1 minute stations, tally reps through round.  Goal = improve # of reps rounds 1-3.
Hang Clean
Row (calories)
Box Jumps
Prone Jingle Jangle
Push Press
Extra "suffocation" style caveat: 7 burpees at the completion of each round….faster you do them, more rest you get within the 1 minute break

Police Officers Rafael Ramos and Wenjian Liu were shot and killed from ambush while sitting in their patrol car at the intersection of Myrtle and Thompkins Avenues in Bedford-Stuyvesant.

Both officers were participating in an anti-terrorism drill when a subject walked up to their patrol car and opened fire with a handgun, striking them both in the head and upper body multiple times. Other officers immediately pursued the the subject into a nearby subway station where the man committed suicide.

The subject was a gang member from Baltimore, Maryland, who had traveled to New York City specifically to ambush police officers. The man had published his intentions on social media prior to the shooting.

Officer Ramos had served with the New York City Police Department for two years and was assigned to the 84th Precinct. He was posthumously promoted to the rank of detective. He is survived by his wife and two sons.

Officer Liu had served with the New York City Police Department for 7-1/2 years and was assigned to the 84th Precinct. He was posthumously promoted to the rank of detective. He is survived by his wife of two months and parents.

Workout:
KB / Calisthenic warm up
EMOM pods - 5 minutes / 4th minute = Bldg 7 sprint rather than repped 1st exercise
Wall walks / Fast flutters
Ball slams / B&T - get up
Rope climb / Side lunge into curtsy
Deadlift / Extended Russian twist
Farmer carry / Rope hops

'