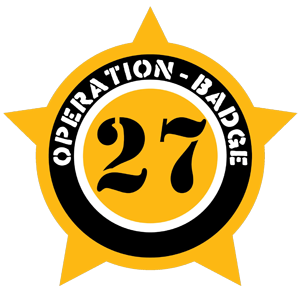 1ST ANNUAL CALL TO ACTION - BADGE 27 EDITION CHALLENGE
EVENT INFORMATION
Corps Fitness has been a long-time supporter of all First Responders and is proud to host the First Annual Call to Action - Badge 27 Edition Challenge. This is a one-of-a-kind challenge for First Responders Teams and Civilian Teams that emphasizes the many mental, tactical and physical challenges First Responders are faced with while on the job.
Date - 

Saturday October 22, 2016

. Kick off at 8:00AM

Starting Point - Corps Fitness 220 Park Road North, Wyomissing, PA 19610

Finishing Point - Berks County Fraternal Order of Police Memorial, Red Bridge Road just off Bernville Road, Reading, PA  19605

Cost - Cost is $45/person (this is a four person team event). All participating First Responders receive a 15% discount ($38.25/person)

Registration - Registration must be remitted in person or by mail to Corps Fitness (address above) along with full team payment amount of $180. Checks made payable to Corps Fitness, cash or credit card are accepted. Registration fees are non-refundable.

Deadline for Registration - October 8, 2016. NO SAME DAY REGISTRATION
DESCRIPTION OF EVENT
This is a 4 person team event.  Teams may register and participate as a First Responder or a Civilian Team. Within those 2 categories, you may register as an All Male, All Female or Co-Ed team.  Kick off of the challenge begins promptly at 8:00AM at Corps Fitness.  After the kick off, different teams will begin in Waves based on First Responder category and Team Run Pace Averages.  Along the approximate 5 1/2 mile course that starts at Corps Fitness, hooks onto the Grings Mill Trail starting at the Stotzfus Homestead, and finishes at the Berks County FOP Memorial, teams will be faced with mental, physical and tactical challenges, many of which represent the tasks First Responders face while on the job.
All competitors are invited to join us back at Corps Fitness after the conclusion of the event for a fun After-Party.
OTHER IMPORTANT INFORMATION
Each Team of 4 must have 1 team backpack with a 6lb. Bag of Purina Pro Plan Sport Dog food. The dog food will then be donated to our local K9 officers. The team backpack must also contain 2 towels, 4 pairs of gloves (one pair for each team member), and at least a 15ft. rope.
Packet Pick-Up plus a De-briefing meeting will be held Friday, October 21st at 6:45 at Corps Fitness. All members of the team are invited, but only ONE team representative is required to attend. At this time, we will give teams an overview of the day which includes more details of the course.
Grings Mill will remain open on the day of the challenge, so Teams are asked to be respectful and cognizant of community members who are using the trail and park.
Spectators wil have "Cheering Zones" which will give some great views of different challenges. A map will be loaded onto the site highlighting these specific locations.
Spectators are encouraged to bring bikes and ride along to view all the challenges.
Portion of all proceeds from the Challenge will go the Kyle Pagerly Memorial Fund.

***We all know the risks first responders must take while on the job and the dangers they face. Tragically, many of our first responder finest have lost their lives while protecting and serving. We'd like to honor those men and women during our challenge on October 22nd.
If you know a fallen first responder that you would like honored, please send to

[email protected]

, that person's name, end of watch, and department for which they served.
Special dedication signs for these men and women will be placed along the challenge trail for us all to remember them and their ultimate sacrifice.
VOLUNTEERS
This is an inaugural event, and we look forward to a well-attended, well-executed event.  But we couldn't support our First Responders without the help of Volunteers!  If you'd like to volunteer your time for this special event, please contact Melissa Hazlett at [email protected].  We thank you in advance for helping us to make this a spectacular day!
CALL TO ACTION APPAREL AVAILABLE FOR PRE-ORDER!

We are pleased to offer additional apparel for our Call To Action event so your family and friends can show their support! Click on the link below to browse the webstore. This is by pre-order only!
***TO GUARANTEE PICK UP AT THE EVENT ON OCTOBER 22ND, ALL ORDERS MUST BE PLACED BY MIDNIGHT ON OCTOBER 12TH.
Orders will be accepted after 10/12, however, pick up will be at a later date at the Corps Fitness gym. This webstore will close on November 5th.
*Your purchase directly supports the Kyle Pagerly Memorial Fund.  A large portion of all proceeds will be given to this fund.
SPONSORS Continue to check back to this page often as more details about the event are released.
Additional questions can be directed to

[email protected]

.