What They Do
Corp Fitness Baseball Academy is excited to work with area baseball players looking to improve their game. Individual and group lessons are available to baseball players who want to get quality baseball instruction and extra reps in and out of season. Our coaches are veterans of professional baseball and teachers of the game on and off the field.
Facility Includes:
Full size Batting Cage
Bullpen Mound
Conditioning, Footwork, Defensive Fundamentals Areas also located inside.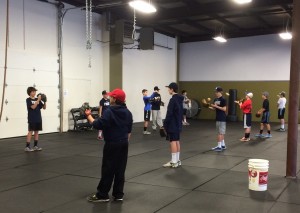 Click above photo to see them in ACTION!
Zach Milch Bio
Zach Milch is currently the Head Varsity Coach for Wyomissing Area High School and Wyomissing American Legion. Zach has played and coached on the college and professional levels at La Roche College in Pittsburgh Pa and the White Sands Pupfish of the Pecos League.
In addition Zach has been named to the coaching staff for many regionally recognized teams including Berks County Voices Senior All-Star Game, Schuylkill Berks All-Star Game and the Keystone Klash game, sponsored by the Big 26 Classic.
Along with his wife Stephanie, who is a Trainer at Corp Fitness, Zach enjoys working out at Corp Fitness and looks forward to the start of baseball season every year. "I have been blessed to have come across such great coaches in my time in baseball and look forward to working with players in the Corp Fitness Facility. I believe with proper training, preparation and a positive mind set, success will come"
Upcoming Classes
Tuesday and Thursday: 7:00 pm
NO Baseball on the following dates: Dec. 30th and Jan. 1st
Rates
1 hour individual: $60
5- 1 hour lessons- $270 (Savings of $30)
10- 1 hour lessons- $540 (Savings of $60)
1 Hour Group 2-5 players: $30 per player
1 Hour Team:  $150
1 Hour Team Facility Rental (no instruction provided): $100
Contact Information
For questions or for more information please contact Zach at [email protected].