Upcoming in February:
Big month ahead!  Many thanks to our Corps Fitness management team for putting this all together and keeping things running smoothly!  We have the best people around!
In addition to the Drink a Gallon a Day challenge, we are offering the following during the month of February.  Stay tuned to our blog and Special Events page for continuing updates.
Fitness Challenge – all month
4 week rowing challenge!  There will be a new workout / challenge posted to the white board each week.  Specific instructions, details and rules will be posted on the large white board in Alpha gym.
Week 1: February 1st-7th
6 ROUNDS:  1 MINUTE ON, 30 SECONDS OFF
Week 2: February 8th-14th
Row 400 meters, 1 minute rest, Row 1200 meters

Thank-a-Cop Month – all month
ALL law enforcement will receive a 1 month unlimited pass to CF at no charge (valid Feb 1-28 only).  Simply show your badge to the CF front desk staff and receive your FREE month!




Valentine's Day Couples Class

 –
February 13th @ 6pm!
  (NO 5:30pm class – start time moved to 6 PM)
CF members,  bring in your significant other for a special Valentine's Day workout!  CF members can bring their significant other for only $10!!  If you're both members, just check in as normal!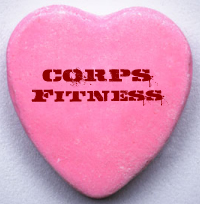 Weekend instructors: 
Friday 5:30 PM: Van
Sunday 8 and 9:30: Gretchen – Super Bowl Sunday!  Wear your favorite team's gear (not required that they're participating in the super bowl!).
Other notes:
1. Wednesday 5:30 PM Basic / Intermediate will be absorbed into a single all-abilities class at the same time.  All abilities are welcome and encouraged to attend!
2. Thursday 5:45 PM Basic / Intermediate had strong attendance in January and will remain at 5:45 PM through February and possibly longer.