Our Story
Chris Kaag Introduction & The Beginning of CF and IM ABLE Foundation
Chris Kaag Introduction
Chris was born September 11th, 1976 in Cherry Point, NC. He led a normal childhood, bouncing around the Eastern US and Reading, PA area with his family before they settled in Canton, OH. Upon graduating high school, Chris followed in the footsteps of his father, grandfather and uncle before him and joined the US Marine Corps at the age of 17.
While in boot camp, Chris learned several valuable lessons that would shape him as a young man and in the years to come, including one very special lesson from his drill instructor. During a group cadence run in boot camp, Chris' drill instructor, Dave Hart, uttered five words that continue to echo in Chris' head during his most difficult times: "Don't quit on me, Kaag." That former DI is now a Lieutenant Colonel in the Marine Corps, and in 2010 Chris had the good fortune of thanking him personally for changing his life in such a positive way. In return, Lt Col Hart had only the highest praise for Chris, saying that he was truly one of the best and he knew he would have gone far if he had been able to stay in the USMC.
1976 - Chris was Born.
1994 - Joined the US Marine Corps at the age of 17.
Chris' Challenge
In 1997, two weeks after his 21st birthday, a concussion led to the onset of a neuro-degenerative condition while serving a second tour in Aviano, Italy. After spending several weeks at Walter Reed Medical Center, Chris was diagnosed with Adrenomyeloneuropathy. A year later in 1999, he was medically retired from the Marine Corps, holding the rank of Sergeant. Upon receiving his diagnoses, Chris had a decision to make. He could either give up or let his condition control his life or dig deep and push on. Chris chose the latter.
The Birth of Corps Fitness
Shortly after his retirement from the USMC, Chris graduated with a business degree from Penn State University and started his own company in 2004. The name of his new business endeavor, Corps Fitness, received its namesake from his father, Sgt. Tom Kaag, who passed away in 2012. Persevering towards his aspirations of being a USMC drill instructor, Chris started Corps Fitness out of the back of his truck using little other than his Marine Corps experience and mental toughness.
Utilizing parks in Berks County, PA, Chris mixed things up at the Stone House, had people running steps at Happy Hollow Park, and low crawling through the sand pit at Gring's Mill, making people stare and wonder before it became the thing to do. During the cold, dark days of PA's weather, Chris found temporary refuge at local fitness clubs.
Chris advocates living life to the fullest, with no excuses. Since 2004, he has been inspiring people of all abilities to realize what they are fully capable of accomplishing. Through Respect, Accountability and Teamwork, Corps Fitness has become a strong community.
2004 - Chris Establishes Corps Fitness
IM ABLE
In 2007, Chris established the non-profit, IM ABLE Foundation. The Foundation was created to build and support active lifestyles for individuals with disabilities. IM ABLE's goal is to help all individuals realize the potential to go further and push harder then their preconceived limits, because once this potential is realized the possibilities are endless.
2007 - Chris establishes the IM ABLE Foundation.
Building 7 Expansion
Our new expansion has come a long way from the big empty warehouse we started with! Building 7 went from 5300sf in 2007 to 13600sf now. Corps Fitness has now expanded to include BLDG 7 Yoga, www.bldg7yoga.com. We have locker rooms, showers, board room and offices for IM ABLE & krankcycle/spin room. We are in the middle of Wyomissing and are ever expanding our reach with exciting new programs and services so this has been an incredible journey that we look forward to continuing!
10 Years Strong
Our 10th anniversary finally arrived after months of doing throwback workouts in the parks and outside locations where we started Corps Fitness and finished in our own Bldg 7, our home for 7 years with some pretty amazing people. The day started off business as usual with Saturday morning classes along with a special workout for the Marine Corps poolee program from RSS Reading.
Thank you to everyone that has made Corps Fitness a pretty special place to not only workout but to build character, discipline, long lasting friendships and teammates all while realizing more about your abilities and how far you're able to exceed your perceived barriers!
Est in 2004, Corps Fitness has shown those who have joined our ranks, how much more they could push themselves and redefine their fitness limits and in the process hopefully giving people a "Can-Do" attitude in all they do. We are so thankful and proud of all who have been with us, whether veteran or newbie, for your faith in Corps Fitness because without YOU this achievement would not have happened!!
1976 - 1994
1997
2004 - 2006
2007
2012
2014
RESPECT + ACCOUNTABILITY + TEAMWORK
What Makes Us Different
What is Corps Fitness?
Our class structure is based upon simple yet effective fundamental movement patterns executed at high intensity. These workouts deliver time-tested measurable health and fitness improvements. This technology delivers the most effective broad-based fitness results in the most efficient manner possible. A Corps Fitness class relies on group energy, community, and often, teamwork (a Corps Fitness class is a "group fitness" experience). Corps Fitness classes require a diversity of exercises and athleticism throughout the hour class. See our schedule page for more details on class times and locations.
Our Goal
At Corps Fitness, our main goal is to ensure you succeed because we know that satisfied and happy people always come back.
In order to thrive in anything, a person must be motivated and inspired. When you walk through the door at Corps Fitness, you will be welcomed by friendly instructors and a group of all abilities. We will provide you with the encouragement needed to push yourself beyond your preconceived barriers. This is group fitness combined with personal training but taken a step higher.
Double the motivation…
Double the encouragement…
Double the results… Guaranteed!
You will leave every class exhausted but with the knowledge that you just outperformed anything you've ever done before. To know that you can exist on a higher level and feel better than you ever have is a feeling no one can take away from you. Whether you are a beginner or advanced, athlete or novice, young or old, we will help motivate you to succeed and redefine your fitness limits.
Our instructors are available to provide personal advice to help you meet your fitness goals. Our main goal is to ensure you succeed because we know that satisfied and happy people always come back.
Corps Fitness promotes the philosophies of Respect, Accountability and Teamwork. Therefore, every participant in a class helps other CF classmates to get the job done...from beginning fitness levels to advanced fitness levels, all members work as a TEAM to push through a workout.
Our instructors are certified / trained and experienced.
What Kind of Results Can I Expect?
New students can expect about a 15-20% improvement in strength and endurance following the first fifteen sessions. In addition our findings show that flexibility, agility and body composition are improved. Subjective things like increased mental toughness, energy levels, improved sleep and reduced joint stiffness are also reported. Most of our students are shocked at their improvements even though they would consider themselves exercisers.
Testimonials
Our Staff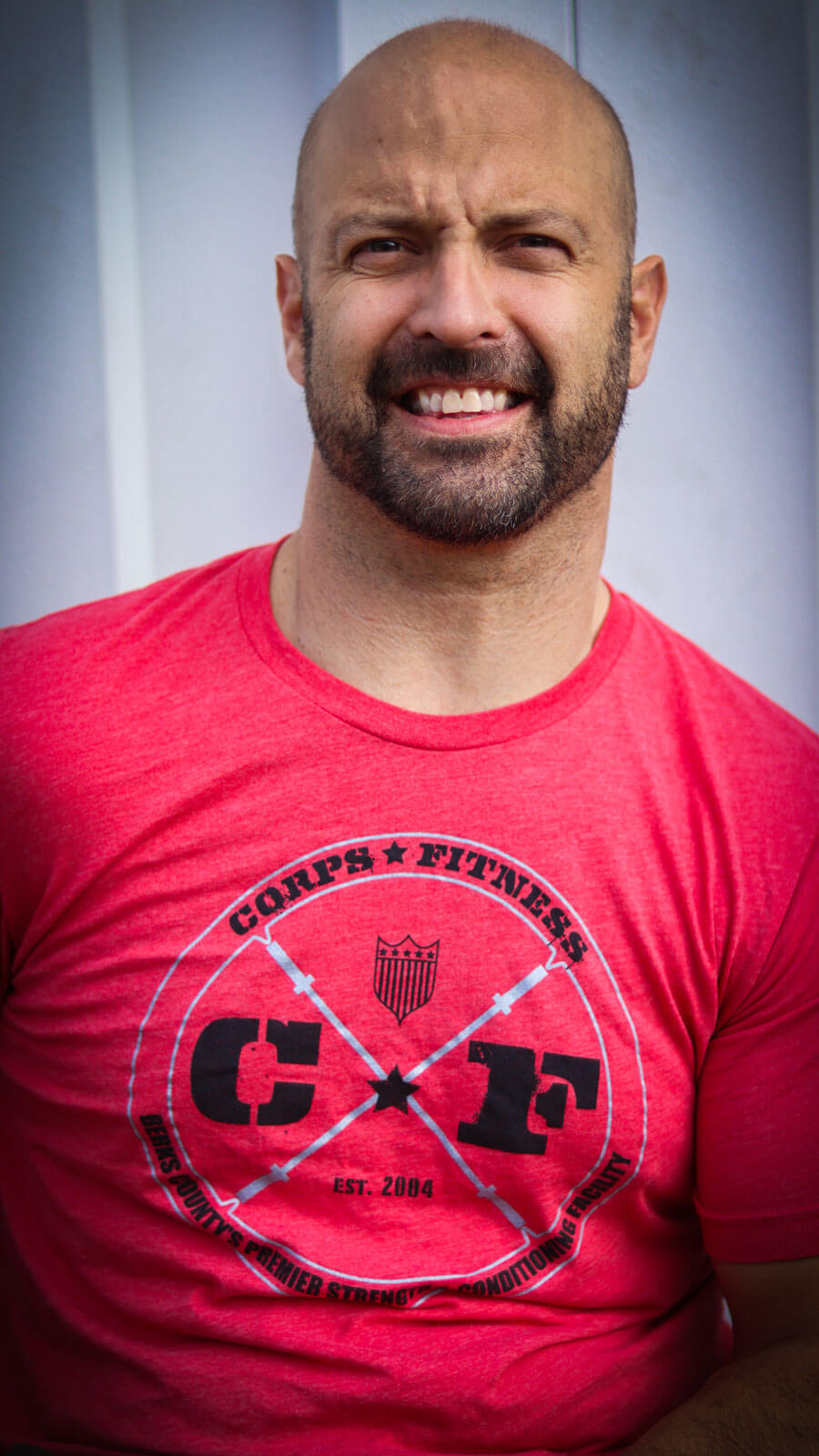 I went into the Marine Corps right out of high school as an overweight football player and returned lean, fit and able to take on any challenge. The philosophy that was ingrained in me changed my outlook on fitness and being active. I started Corps Fitness with the philosophy of exposing people to the motivation…
[ Read more ]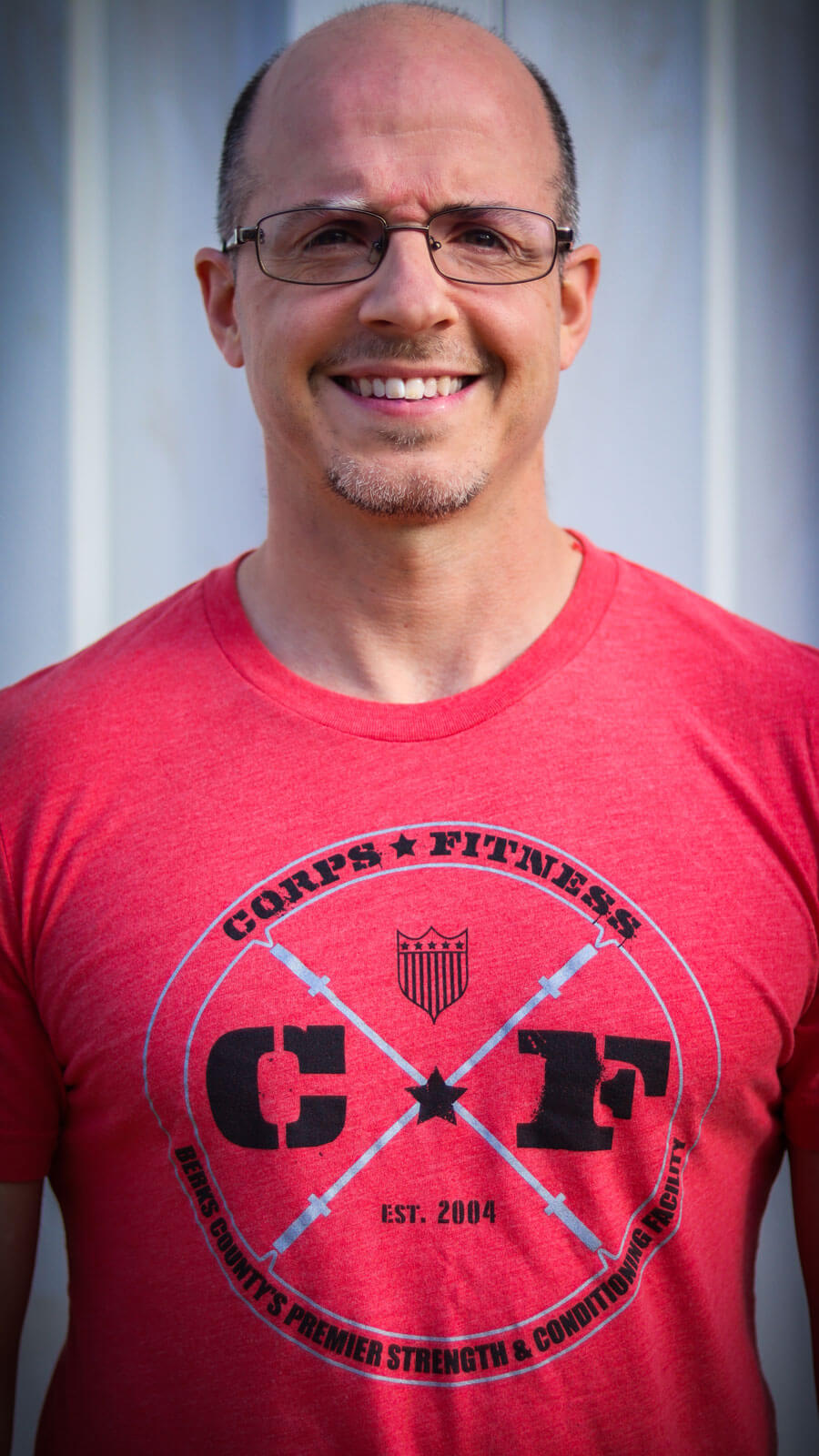 Joe came to an intro class in August of 2017 looking for something new to challenge him. After doing at home workout programs, running numerous trail races, 5K's, 10K's, and Half Marathons, culminating in the Vernon Spartan Beast, he knew after 2 weeks, that Corps Fitness would never be the same workout twice and would…
[ Read more ]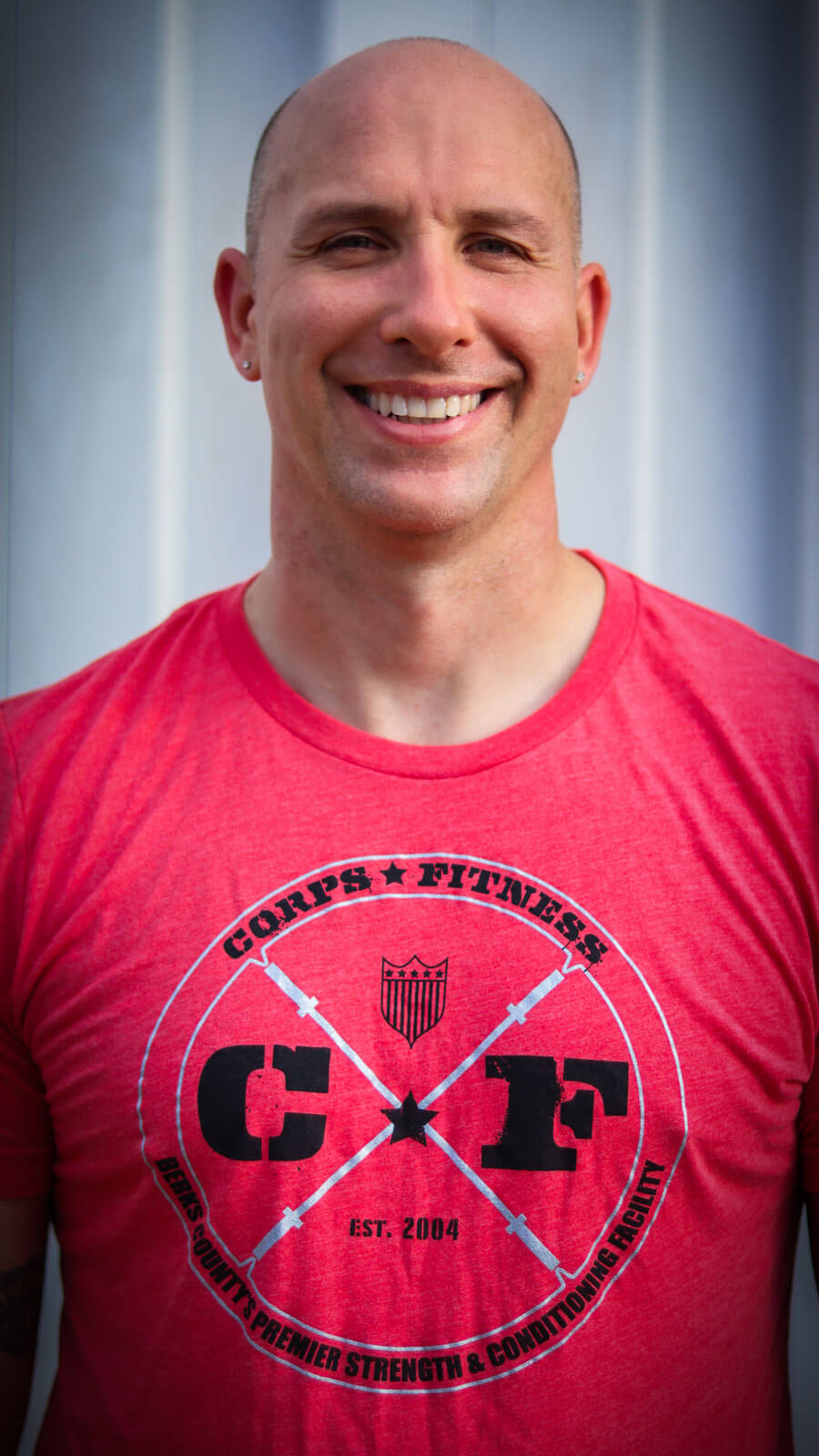 Kevin first joined Corps Fitness on a punch card in 2008. Following some injuries he took some time away from the gym before finding his way back home in 2016. He grew up in Freehold, NJ before moving to Philadelphia to earn a bachelor degree from Philadelphia University. He moved to Reading when he and…
[ Read more ]
Gretchen got her start with Corps Fitness in 2006 and has been hooked ever since. She enjoys pushing herself to the next level and the quiet competitiveness of a group class. Some of Gretchen's favorite exercises include pull-ups and kettlebells. Gretchen is a CrossFit Level 2 Trainer and is currently teaching a few classes a…
[ Read more ]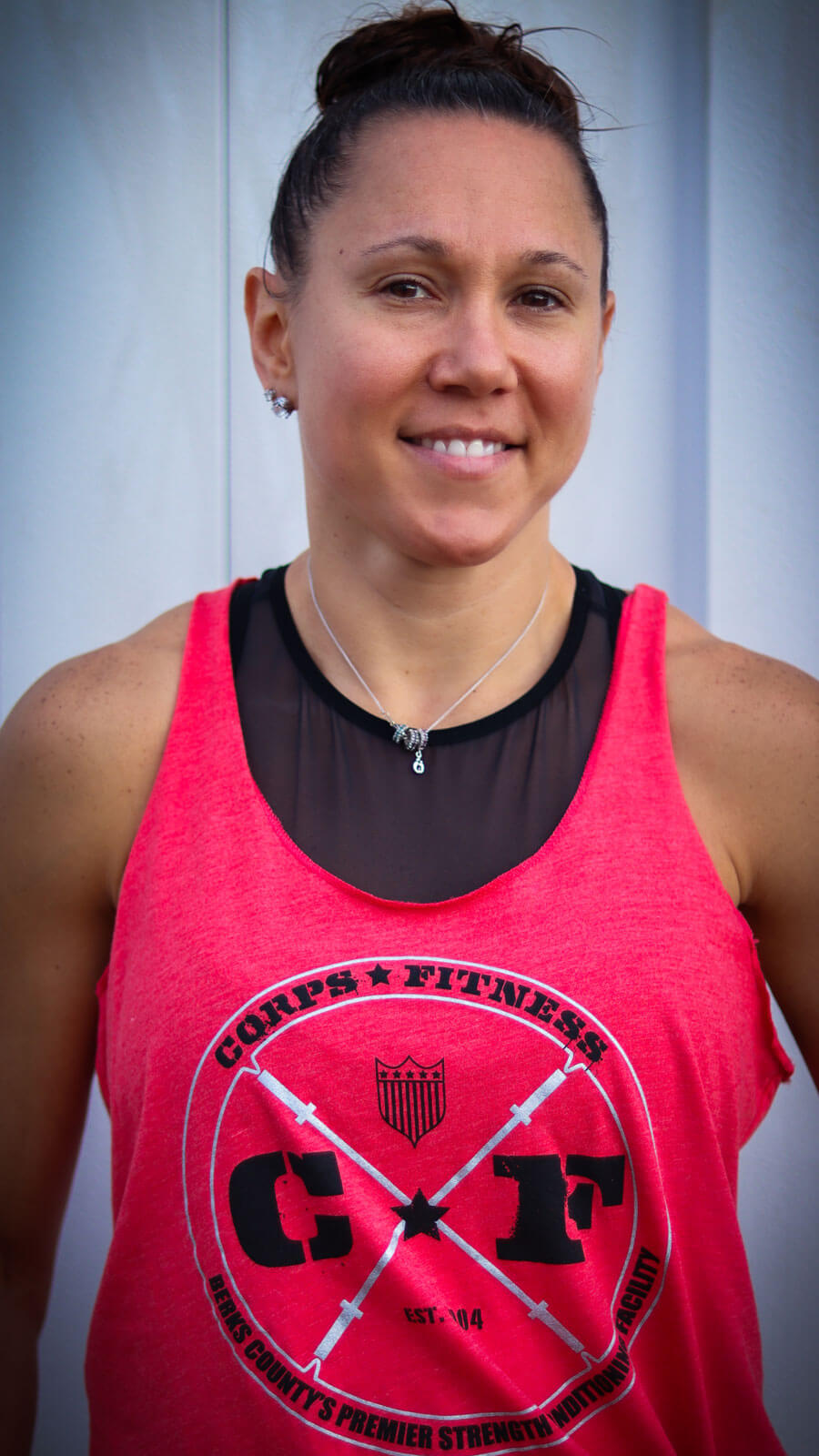 Amanda came to one of the intro classes at Corps Fitness in October of 2016. After months of trying to achieve fitness goals on my own, she returned on June 10, 2017 for her first official Corps Fitness Class. Owner, Chris Kaag, made a bet with her and gave her until the end of June…
[ Read more ]
Words From Chris
"Defining moments" are experiences that have an impact on our souls, and create that moment by which we are defined. However we choose to handle the challenges in our lives reveals more about our personality and character than any other test. Only when someone goes beyond his perceived capabilities and is forced to dig deep into his soul to find strength, does he have a greater understanding of who he is. At that instant, knowing that you are able to exist on a higher level is one of life's most important discoveries. Without this, our true capabilities would never be realized and our lives would be confined to the boundaries and limits we place on ourselves.
I experienced my defining moment in Marine Corps boot camp at Parris Island, SC in the summer of '94. The profound lessons I learned at Parris Island have transcended into my daily life and continue to influence how I choose to handle all other challenges, particularly what follows.
In 1997, at the age of 21, I was diagnosed with a degenerative nerve disorder that would become the turning point of my life. I was faced with a decision to dig deep and push on or give up and let my condition take over my life. Those 3 months in boot camp would serve as my guide and ultimately give me the knowledge and strength I needed to dig deep and push on and lead me to where I am today.
Today, I continue to put one foot in front of the other, regardless if that step is supported by my 2 canes or my wheelchair, to show everyone that you only have to look inside yourself to find the strength to keep going. I live by three simple words that I learned as an 18 year old Marine recruit:
IMPROVISE, ADAPT, AND OVERCOME
Everyone has their cross to bear, some bigger than others, but do not let it stop you from achieving your goals. Improvise; find a way to do things differently. Adapt; implement this change into your daily life. Overcome; get on with your life with no excuses.
Viewing my disability as my stepping stone and not my crutch will hopefully redefine the way others view the challenges they face. Dig deep and you can accomplish anything!
Stay motivated!

Founder – Sgt USMC
In 2007, the IM ABLE Foundation was created by our founder, Chris Kaag, a disabled United States Marine. The idea was to build and support active lifestyles for individuals with disabilities.
IM ABLE's goal is to help all individuals realize the potential to go further and push harder than their preconceived limits, because once this potential is realized, the possibilities are endless. With handcycles, racing chairs, adaptive skis and other advancements in technology, it is possible for anyone who has a disability to increase their fitness level. Never forget to appreciate what you CAN do and GET UP AND MOVE!