Happy Valentine's Day 2011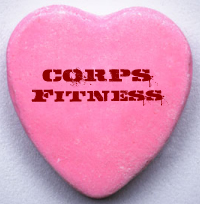 You can give a 4hb-er a Whitman Sampler, but you can't make them eat it. Read here how insulin is the cause weight gain and the inability to lose weight.
After some time to digest the 4HB book concepts, we'll start for real. This is virtually a sure-fire body recomp dietary approach. Follow it exactly (and by exactly, it means…exactly), and you will see changes…and not just "weight loss", but the type of body recomp changes you expect from the high intensity work at CF.
So, if you are in (or interested) take measurements this week. We want weight, %bf, waist in., thigh in. See Matt. Also, even though there is no calorie counting or tracking, we'll hang out at the Livestrong site.
Monday Cross Fit. NEW format for 530pm Combined Efforts
5 Rounds
15/22 Kettlebell Swings
15/22 Box Jumps
200 M/ 400 M Run
15/22 Burpees
15/22 Wallball