"To fail is a natural consequence of trying. To succeed takes time and prolonged effort in the face of unfriendly odds. To think it will be any other way, no matter what you do, is to invite yourself to be hurt and to limit your enthusiasm for trying." -D. Viscott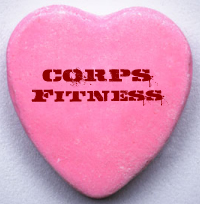 You can give a 4hb-er a Whitman Sampler, but you can't make them eat it. Read here how insulin is the cause weight gain and the inability to lose weight.
After some time to digest the 4HB book concepts, we'll start for real. This is virtually a sure-fire body recomp dietary approach. Follow it exactly (and by exactly, it means…exactly), and you will see changes…and not just "weight loss", but the type of body recomp changes you expect from the high intensity work at CF.
So, if you are in (or interested) take measurements this week. We want weight, %bf, waist in., thigh in. See Matt. Also, even though there is no calorie counting or tracking, we'll hang out at the Livestrong site.
Monday Cross Fit. NEW format for 530pm Combined Efforts
5 Rounds
15/22 Kettlebell Swings
15/22 Box Jumps
200 M/ 400 M Run
15/22 Burpees
15/22 Wallball
Warm Up in Groups 1, 2, 3.
Circuit Pods:
Each Pod has a 1, 2, & 3.
Transition group exercises (meet back with original groups 1, 2, 3).
Smooth as silk!
Pod 1: Bear Crawl, Side Push Off, Jump Overs
Pod 2: KB Crunch, PU/Plank knee, Walkabout
Pod 3: Swing, B&T MB Jump, Hello Dolly
Pod 4: T rotation, Thruster 1arm, Lunge Press
(Transition: B&T, Mtn Climber, Lying JJ, B-buster, Locomotive, Bicycle Cr, Flutter Kick, JJ, Push Up, Mnky Squat, Air Squat, Mtn Climbers Knee Side)
Sunday February 13, 3PM (*NEW*)
3PM: My Bloody Kettlebell Workout (the usual mix of KB and bodyweight exercises)
4PM: Slow Carb/4hr Body information for 4-week challenge
Notice in the jump preparation the shoulder drive…load up, then back. Also the nice "carry" reaching with the feet. That big float on a length jump is exhilarating!
lengthjump (click for vid)
Also, jump on over to the old blog to vote for CF classes. If you have class-type suggestions, contact Chris.
Forget about Kindergarten. Everything we need to know about life we learned from Ding-Dong.
"Everywhere in our society there is an extreme lack of self-accountability. I see it everyday in all aspects of my life. I was taught by a very wise person this simple lesson…"Everyday courage.""2011 is the year of Achievement at CF. Take a look at yourself (physically and/or mentally) today. Put any goal on the table: getting better at the CF exercises, working out harder, improving speed, getting to the gym more often, weight loss, whatever. What is going to change by Dec. 31? How is it going to change?
"That is the closest I have come to puking in quite some time…"
Exactly. 
"that requires something much more than mental masturbation…it means you actually got to put the food down, turn off the tv, dust yourself off, and go out into the world and make something happen…"
Cheerleading is fine, if it's backed by results. Pick your goal…and spend less time "rah rah-ing" and more time doing!
"Tasted blood….hah!!! I was p!ss!n blood after that second round…"
Exactly.
"do it, create it, live it and don't hold on too tightly to the past….cuz it just may strangle you…"
"Keep the ego in-check and be honest with yourself!!"
"Crazy is as crazy does…"
"I don't give two shits what your perceived excuse is for dilly-dallying around…everyone who walks thru that door is carrying a burden of some sort…so mostly no-one gives a sh!t…get your mind right, focus on what is in front of you and do whatever it is you are doing in the moment to the best of your ability and stop whining…"
Simple Steps:
Step 1: Look in the mirror. Are you satisfied with your goal?
Step 2: Be honest about your approaches and strategies. If they haven't worked up to this point…will it really be different tomorrow if it hasn't changed in 1, 3, 5, years, honestly? Will Dec 31 2011 be different…or just like all the other Dec 31s of all the other years? Honestly consider dramatic changes to strategy.
Step 3: Make a list. The list will be all the excuses why you haven't met your goal. Ask yourself why you aren't that right now, today, Feb 8. All the excuses, get them out, write them down. Put them in front of your face. See them?
Step 4: Say each one aloud and then cross them off.
Step 5: Done. You are free to pursue your goals in 2011 with Achievement-oriented focus and determination, unencumbered by excuses and self-deceit. Go get 'em, CFers, no excuses, no limitations, no boundaries!